Cranbrook's KEYSA multi-use sports facility almost ready for action
The finish line is in sight with Cranbrook's new indoor multi-use sports facility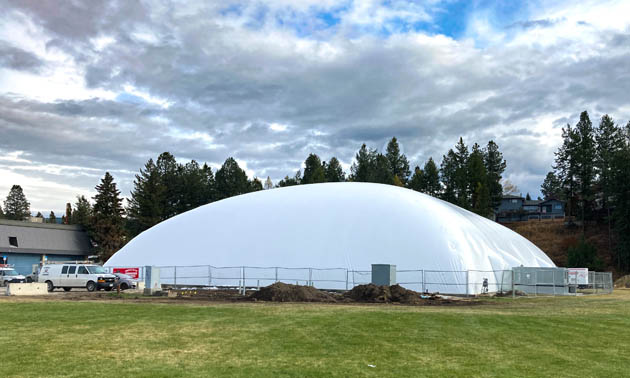 The turf has been laid at the Kootenay East Youth Soccer Association (KEYSA) multi-use indoor sports facility in Balment Park, and for many East Kootenay residents, it's the home stretch of a long-held dream.
The need for a multi-use space in the community cannot be underestimated. When KEYSA initially introduced the project idea back in 2017, they were overwhelmed with interest from not only traditional sports groups but also non-sport users such as trade shows, graduation ceremonies and special events, the Cranbrook Farmers Market and after-school groups.
Constructed on City of Cranbrook land, the air-supported dome features 25,000 square feet of artificial turf floor space with a maximum height of 40 feet. For context, this floor space is just over three times that of the Mt. Baker gymnasium. During the design process, substantial input from various user groups was taken under consideration in order to maintain the objective of being a multi-use facility. The playing field inside the dome was adjusted so that two 14- x 50- foot batting cages could be included within the warm-up area of the field. A joint use partnership was also formed between the Cranbrook Curling Club and KEYSA, allowing the clubs to increase overall usage of the area.
Truly a community effort, the project would have been impossible to complete without the incredible support from local organizations and governments, businesses, sponsors and area residents. Providing positive opportunities to youth and the community is what this project and KEYSA exist to do. The organization has reserved a one-hour after-school spot for other non-profit groups to use free of charge, with the intention of promoting and providing programs that encourage physical literacy in youth.