Cranbrook chamber honours business excellence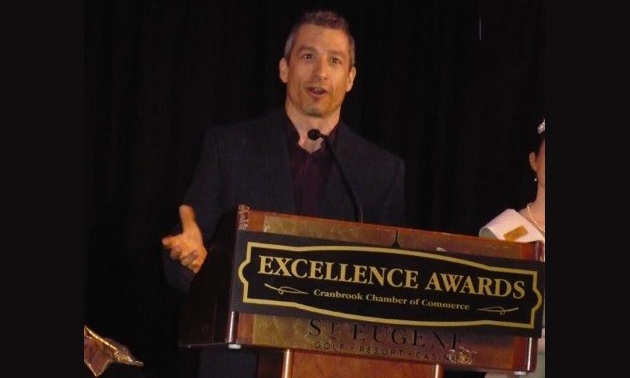 What started as a single customer service award in 1991 has morphed, 25 years later, into a gala evening celebrating business excellence in 11 distinct categories.
The Cranbrook Chamber of Commerce held its 2016 Business Excellence Awards in early April in the big tent at St. Eugene Golf Resort & Casino.
And the winners (drum roll, please) are:
Business Person of the Year: Tristen Chernove, CEO of Elevate Airports, which manages Canadian Rockies International Airport
It was noted at the awards ceremony that Chernove, who is also a gold medal-winning paracycler, has helped make the Cranbrook airport "the best small airport in B.C."
Chernove said he moved here from Cypress six years ago, deliberately choosing Cranbrook because he was "inspired by the geography and the energy of the business community."
Young Entrepreneur of the Year (a new category): Chase Thielen, Silverado Construction and KD Electric
Thielen, who was also recently named by Kootenay Business magazine as a 40 Under 40 rising star, said he's happy to have made it through various trials and tribulations to come to this point with his two companies.
Business of the Year (16-plus employees): Rocky Mountain Diesel Ltd.
Chris Thom, in business since 1981, said it is "the staff that makes the owner look good."
Business of the Year (one to 15 employees): Rocky Mountain Print Solutions
Stephen Wik thanked his dad for teaching him how to balance taking risks and watching the pocketbook.
His father, Don Wik, humorously noted how hard small business owners work. He said that there are two keys to running your own business: (1) you only have to work half-days; and (2) you can pick whichever 12 hours you want.
New Business of the Year: JJ Mechanical
Jordan Janowicz thanked all his customers on the one-year anniversary of this business.
Retail Excellence: The Paw Shop
Owner Stephanie McGregor, who has been in business seven years, said she takes a holistic approach to animal care. "I love what I do and I love where I live," she said.
Manufacturing and Production: Caliper Machine & Hydraulics Ltd.
Mike Hambalek said he is proud that his company focuses on training youth and on creating local employment.
Business 2 Business: Genex Marketing
Owner Chris Botterill was praised as an "excellent networker" in a company that has seen continued growth since 2008.
Professional Services: Rella Paolini & Rogers
The law firm has been in business in Cranbrook for 36 years and regularly sees 50 per cent repeat business. The winners praised their staff and the trust of their clients.
Non-Profit Organization: Cranbrook & District Community Foundation
This 13-year-old organization said it would like to "send all the love back" to the many donors that have supported it over the years.
Hospitality & Tourism: Elizabeth Lake Lodge
George Freitag recalled a visit by famous golfer Gary Player and how he commented on the wonderful, fresh air of Cranbrook.
Hosts for the evening were Laurie Goodlad and D'Arcy Kennedy. The dinner and reception were sponsored by Western Financial Group.