COTR's new entrance exceeds expectations
Local dignitaries are wowed by innovative design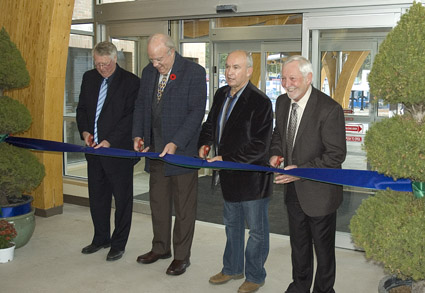 The much anticipated grand opening of College of the Rockies' (COTR) Kootenay Centre in Cranbrook impressed the crowd of government and college officials who were on hand for the ribbon cutting.
The $12.74 million expansion includes a grand entrance, which was designed to reflect some of the cultural touchstones of the Ktunaxa First Nation, Cranbrook's closest community neighbour. The entrance is visually dynamic, with engineered wood beams sourced in the Kootenay region that create a V-shaped roofline that reflects either the bow of a traditional sturgeon-nose canoe or the mountain peaks that define the region. Inside, subtle design features such as tipi-like poles, stylized bear paws, a welcoming fireplace and a soon-to-be living wall pay homage to the Ktunaxa and to the natural surroundings. Troy Sebastian, who represented the Ktunaxa Kinbasket Tribal Council, expressed his appreciation for the college's efforts to appeal more to aboriginal students.
The project was jointly funded by the provincial and federal government, and the East Kootenay MLA and Minister of Energy, Bill Bennett, and Jim Abbott, MP for Kootenay Columbia, both spoke of their pride in being involved in such a significant project.
"College of the Rockies plays a central role in the educational, social and economic life of Cranbrook and the five other communities where it has campuses," said Bennett. "This expansion ensures students from the East Kootenays continue to have world-class institution right here in their own backyard where they can pursue new knowledge and skills that will benefit them and their community."
Along with the dramatic entrance, new classroom spaces were also created.
Dr. Nick Rubidge, COTR's president and CEO, said that he was impressed with the design of the expansion, which along with the strong cultural significance is also currently the greenest building in the city. Rubidge said the expansion positioned the college to become more of a leader in the region's educational prospects.
"We are grateful to the provincial and federal governments for their investment in our college and the post-secondary education of the students in our region," said Rubidge. "The additional classroom space and the consolidation of important services for students into a main entrance location will be of great benefit to our students, faculty and staff."