A wide-angle look at tourism
Tourism panel shares insights with chamber luncheon guests in Cranbrook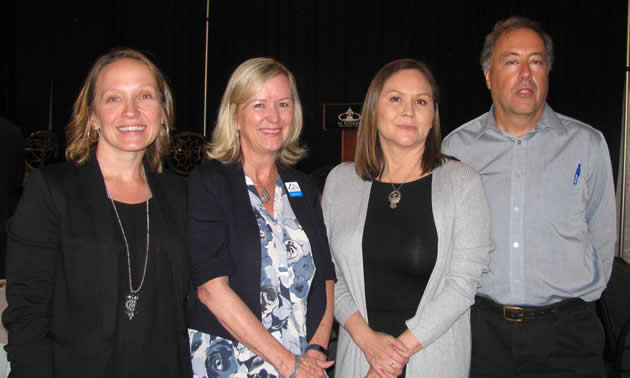 At the Cranbrook Chamber of Commerce luncheon held on June 19 at the St. Eugene Golf Resort, four special guests formed a speakers' panel to provide information about trends, opportunities, challenges and other aspects of tourism in the Kootenay region.
The speakers represented tourism agencies from the province, the region and the City of Cranbrook. Providing information and insights were Richard Porges, Destination BC vice-president of corporate development; Paula Amos, chief marketing and development officer, Indigenous Tourism BC; Kathy Cooper, CEO, Kootenay Rockies Tourism; and Kristy Jahn-Smith, executive director, Cranbrook Tourism.
The panelists spoke about the power and effectiveness of regional marketing as opposed to community marketing, and the trend toward "transformational" or "experiential" tourism. They said that the public has a growing desire for cultural, historical and unique local experiences, as well as regional and ethnic cuisine and products.
Richard Porges spoke about the importance of conveying a net benefit to local residents as well as tourism businesses. He said that filling the need for a tourism labour force continues to be a challenge in many small communities and that it's important for tourism marketers to see their products through the eyes of their customers.
Paula Amos said that visitors are more socially conscious than ever. They are attracted to "giving back" programs and to authentic Indigenous health and wellness practices and cuisine. She said that among the thousands of tourism stakeholders in the province, there are only about 100 market-ready Indigenous tourism businesses, so there are abundant opportunities available in the industry.
Kathy Cooper agreed that cultural tourism is on the rise, providing opportunities for collaborations among First Nations and destination marketing agencies. She also noted that it's important to have sustainable tourism practices and great customer service, along with a plan for the shoulder seasons and for times when the expected flow of tourism might be disrupted.
Kristy Jahn-Smith is an enthusiastic promoter of the recreational opportunities and amenities available in the Cranbrook area. She agreed with the other panelists that it's important to create a broad experience for visitors by embracing a regional approach. The new Cranbrook Tourism website has an extensive photo and video gallery showing favourite local activities. Jahn-Smith looks forward to engaging this fall with a newly formed tourism advisory council made up of local tourism stakeholders.