The business of training truckers
A school in Castlegar, B.C., is doing its part to put more professional truck drivers on the road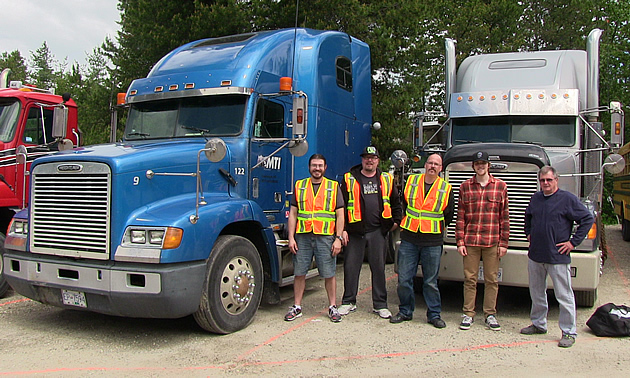 Where would we be without trucks and, more importantly, truck drivers? They bring us food, fuel, lumber and other cargo that support our lives and the economy. Imagine going to the grocery store and finding the shelves empty, or pulling up to the pump and there's no gas to fill your car. How would you feed your kids or get them to school? Local businesses would certainly be affected—whether it's a corner store, a sawmill or a coal mine.
Life as we know it would not be the same without the trucking industry, and it seems that the industry is in dire need of drivers.
The big-picture trend
According to Trucking Human Resources Canada, there are more than 290,000 people working in Canada's trucking industry—most of whom are truck drivers. A good portion of them are 55 and older and will be retiring soon, which means that by 2021, an additional 43,900 positions will need to be filled. It's just an estimate, but if you're not convinced, do a quick online search for "truck driver jobs." In seconds, you'll find hundreds of jobs—many within B.C.'s Kootenay region.
The industry doesn't simply need drivers, though—it needs good ones, drivers that carry with them a high level of professionalism. At least that's what Andy Roberts thinks.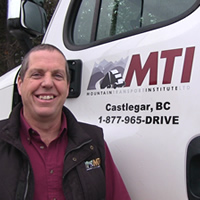 Roberts is the president and owner of a well-established truck driver training school in Castlegar, B.C., called Mountain Transport Institute (MTI). He's also the head instructor and his goal at MTI is not only to help students obtain a Class 1 licence but to make them competent and employable as well.
"The problem is that simply getting the licence is a stepping stone to a job," he said. "You can legally drive a tractor-trailer, but the employers and the job itself require a lot more skill than what is measured by ICBC (Insurance Corporation of British Columbia) on a road test."
Due to the worker shortage, Roberts said, some employers have had to lower their hiring standards to keep trucks running—which means putting less experienced drivers on the roads.
"We probably don't see it as much in the Kootenays because we have some fairly challenging terrain," said Roberts, "but when you get into the bigger cities and onto Highway 1, you see a lot of drivers that literally just got a licence, and somebody gave them a truck and sent them down the road. From a personal perspective, I don't believe the roads are as safe as they used to be."
It pained Roberts to say that—especially since he has spent his entire life in the trucking business.
"I've always been in love with trucks, but I was also lucky enough to be mentored by some very seasoned drivers when I started . . . " said Roberts. "And they instilled in me the professionalism and the pride that I think is disappearing from our industry today."
Not as easy as it looks
Manoeuvring a big rig, whether it's around town or down the highway, takes skill, and drivers face many challenges—one of the biggest being that the public goes to work with them every day.
"It's an environment where people can show up angry, mad, tired, distracted and impaired," said Roberts, "and as a professional driver, you have to deal with that stuff and you have to keep everybody safe, because the bottom line is that you want to make sure everyone goes home at the end of the day."
At MTI, students learn how to be safe and responsible. Roberts also encourages the trucking companies he has partnered with over the years to put MTI graduates through a coach mentor program before they are put on a truck by themselves.
"Then you can take that person and mould them to your specific systems," he said.
Some companies will even pay graduates while they are being mentored.
The road ahead
Like most major industries, today's trucking industry is changing, but as long as there are goods needing to be moved across country, there will always be trucks and drivers wanted to operate them.
"Trucking does die down a bit when we get into a slowdown, but it will never stop," said Roberts. "It can't stop because it is the lifeline of every community."