Sherwood Shuttle Services serves up smiles to those in need
This Castlegar company provides low-cost transportation in the city and beyond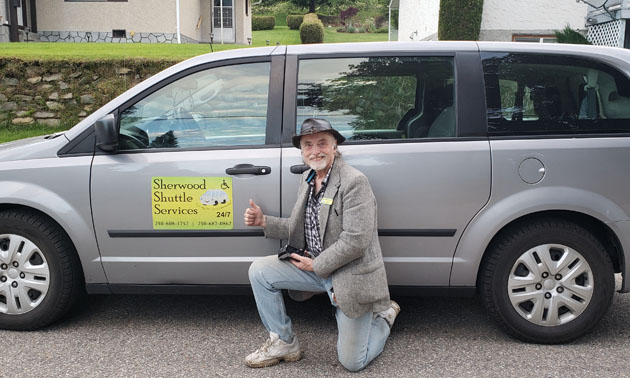 Often, it's the simple things in life that make the biggest impact on the people around us.
Castlegar resident Mike Sherwood saw the need for a low-cost transportation option in his community. His business, Sherwood Shuttle Services, provides low-income people, seniors and those with disabilities an affordable way to travel or do errands. His business is run completely on a donation-basis and he only accepts what a person can afford.
Business is booming, according to Sherwood.
"It has really been in demand," he said, "I've been getting at least 10 calls a day."
Sherwood is far from a rich man but his humble, helpful and giving nature shines. He donates five per cent of collected money to charities such as the BC Brain Injury Society, the Canadian Mental Health Association, the BC Cancer Foundation and the MS Society of Canada. The MS Society is a cause close to his heart as he has the disease, but he hasn't let that diagnosis stop him.
"I will continue to provide this service for as long as I am physically capable," he said. "My favourite part of the job is knowing that I made a difference in easing someone's stress and knowing that I provided a service that is greatly appreciated."
Sherwood does not make any profit from his shuttle service—merely enough to cover his expenses, vehicle upkeep and gas. The company is bonded and insured, available 24 hours per day and accepts debit card, credit card or e-transfer for easy payment options. While he operates primarily in Castlegar, he can also take people to nearby communities like Nelson or Trail. Depending on need, he is also open to long-distance trips.
"I will travel all over," he said, "As long as my costs are covered, I will help."
Sherwood is an inspiration to his community and the people he assists, and the satisfaction he derives from his job is simple.
"It makes me proud to bring a smile to those in need," he said.
To learn more about Sherwood Shuttle Services, contact the business on Facebook or give Mike a call or text at 250-608-1752.