Castlegar food blogger now dishes up plant-powered meals
Founder of The Roasted Chickpea, Kayla Heddle is scaling up her successful meal prep services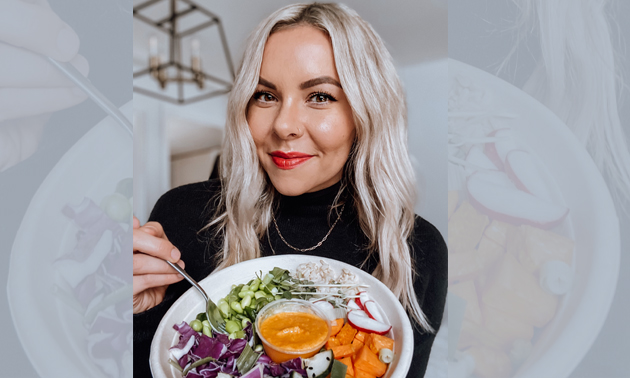 As the owner of The Roasted Chickpea in Castlegar, Kayla Heddle takes the health of her customers to heart. She's been making tantalizing meals for friends and family members since she was in her teens. Heddle achieved a Bachelor's degree in health studies, which gave her a new appreciation for plant-based cooking and paired with her culinary skill set beautifully.
In 2015, Heddle decided to take her passion to the next level. She was a busy mom of two young children, but she still found the time to start up a food blog she called The Roasted Chickpea.
"I started off by posting healthy recipes to my website and through social media and eventually amassed a small following," she explained. "One of which was a local who needed help with meal prepping. Soon, I gained multiple clients, where I created specialized menus, grocery shopped and meal prepped for them right in their homes. Not long after, I found myself turning new potential clients away due to how busy I was, which had me thinking of new, more efficient ways to make my healthy meals more accessible to more people. And for the last year and a half that's what I've been doing. Creating individually packaged, healthy plant-based gluten-free meals and snacks for the public that are sold in local grocery stores, coffee shops and for pre-order to clients through my website."
Coping with the challenges of COVID-19
When COVID-19 hit, Heddle closed her business for five months, but by late summer she was up and running again. While there are a host of new obstacles at play, Heddle has taken the opportunity to find a silver lining wherever she can.
"Shipping times are longer, so that has actually forced me to be more organized and order things like containers, labels and wholesale goods much more in advance," she said. "Some places that used to carry my food products are no longer running or able to carry them, so I've really tried to advertise more to the public to order directly through me and recently acquired a new retail location. I feel like it's in the most trying times that we grow the most, if we allow ourselves to see the opportunities beyond the darkness. When we are forced to take a step back and truly analyze our lives, our businesses, we are able to actually see more clearly that there may be a better way to do things. That's where creativity is sparked, where new ideas are born, when we are impelled to step outside the realms of our comfort zone."
Heddle looks forward to scaling her business to reach more people throughout the Kootenays and beyond. She is currently taking part in Food Business Refresh - a new B.C. government program aimed to help small business owners through this difficult time. She is working on a surprise project and can't wait to unveil it.
Starting her company online turned out to be a wise move, as by the time she went into business she was already known in the community for her amazing recipes and blog. Her creations are sold in a number of local coffee shops and grocery stores.
"I feel like there is an effort to mutually support each other's businesses through online mentions and other ways – I definitely feel like Castlegar really embodies the 'support local' movement," said Heddle. "I just want to say thank you for all the community support. My work feels so purposeful and I am grateful that I am able to make it easier for people to eat healthy and get more vegetables into their lives!"