Living Endless Adventure
Paddling in the Kootenays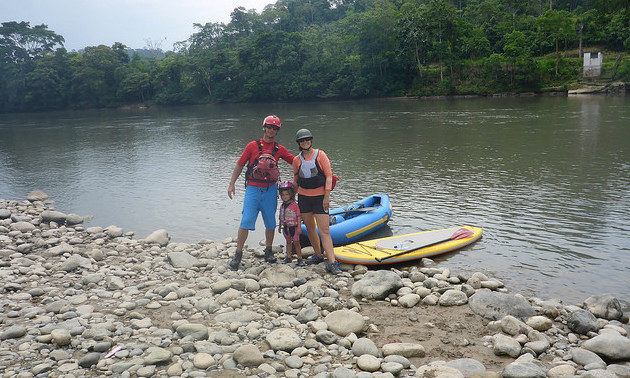 Imagine that your career is built around your favourite activity. You also own the company where you work alongside family, and business takes you to an exotic location over the winter. Sound too good to be true? For Chris and Andrea Ryman, this is reality.
The Rymans first met when Andrea was a client (or gorby, as insiders say) at a rafting company in Ottawa, Ontario, where Chris was a kayaker and resort manager.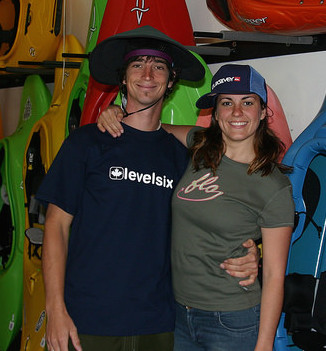 "I had grown up loving the water, but Chris' adventure-seeking took me to the next level," said Andrea. "Early on in our relationship we worked together in Ontario. He guided, managed and worked as a videographer for an outdoor adventure centre on the Ottawa River. We started a photo and video business covering adventure sports across Western Canada . . . After our summer tour, we landed in the Kootenays."
The Rymans acquired Endless Adventure in Crescent Valley, B.C. The business offers tours and courses for a variety of exciting water sports, as well as gear rentals and sales. The company was able to bring together Chris' passion for paddling and their access to the majestic Slocan River. Chris also has a business degree, which has proven helpful in the business side of the endeavour. Andrea found her niche with marketing, co-ordinating and event planning.
Keeping with the times
When Chris and Andrea Ryman first started running Endless Adventure, they found that whitewater kayaking comprised 60 per cent of their business. It is still an important component, but there is a new water sport on the block.
Andrea got involved in stand-up paddleboarding (SUP) back in 2010 when it was still relatively unheard of. She went on to become one of the first women in western Canada to be certified as a river SUP instructor. The sport has since exploded in popularity. Today Andrea teaches SUP and has developed a popular class that she has coined SUPness. This workout allows participants to improve their core strength and balance while also working on their paddleboard technique. Stand-up paddleboarding has since grown to 60 per cent of the business at Endless Adventure.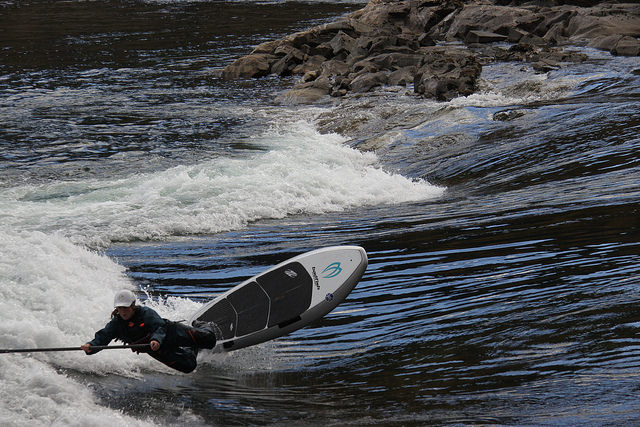 With their willingness to learn new skills and change their focus, the Rymans have allowed their business to grow and evolve. In addition to teaching and leading at Endless Adventure, Chris, a sponsored athlete, also travels and teaches his skills to classes in university and college adventure programs.
Chris and Andrea have successfully established Endless Adventure as a noteworthy business in their community. Andrea won this year's young entrepreneur award at the Castlegar & District Chamber of Commerce Business Excellence Awards. She has been growing her involvement in the region, and her SUP classes mean she is visible to the community. The company was also nominated for the tourism development award.
Expanding in a new direction
By the nature of its product, Endless Adventure is a seasonal business in the Kootenays. Seven years ago Chris and Andrea decided to expand their services in another direction—southward.
"We wanted to continue to paddle and host people on and off the river year-round," said Andrea. "Ecuador became an obvious possibility with the lush landscape and biodiversity. Starting out with primarily whitewater kayak tours, we have since evolved to a multi-adventure guiding service in Ecuador."
The couple and their four-year-old daughter, Raddison, spend November through February hosting tours in South America. They invite some of their top Canadian guides to join them, but also hire up-and-coming Ecuadorian kayakers and other professionals. They are working towards establishing a sustainable ecolodge in the jungle as a base for their various tours, SUP beach programs and instructional courses.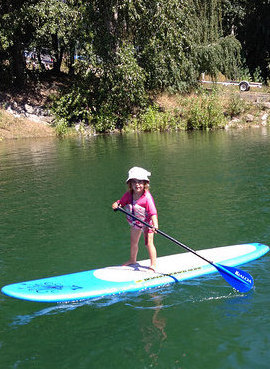 Life as business
For the Rymans, combining work and their life passions is both the most fulfilling and most challenging aspect of Endless Adventure. Andrea said that it can be a struggle to avoid talking about work over family dinners. However, they truly enjoy going to work every day.
"We love being a part of people's adventure vacations," said Andrea. "We work really hard when it is needed but take time to have our own family escapes, which usually involve the same activities we share as a company—camping, paddling, and adventure trekking."
It's certainly been an exciting decade for the Rymans. Whether they're leading youth camps or corporate activities, designing programs or hiking in the Ecuadorian jungle, it's obvious that they have found a place to call home and have built a business to go alongside.
"Endless Adventure has become a place to play and explore new passions," said Andrea. "We are excited to continue with all of the fun river services and look forward to working closer with local businesses to bring new people to the area . . . Our lives are always challenging but exciting every step of the way as we build and grow places that people want to explore and discover themselves."