Changes to Columbia Avenue in Castlegar are more than meets the eye
Replace, repave, redone—Columbia Avenue has been rejuvenated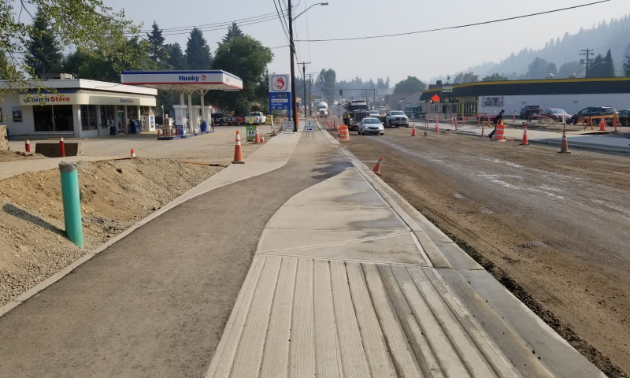 Downtown Castlegar's Columbia Avenue has undergone a massive facelift in the past year. The repaved road is lined with new curbs, gutters, banner poles, street furniture, trees, widened sidewalks and one-way cycle tracks for bicyclists.
Beyond the more pleasing exterior lies the heart of the reason why Columbia Avenue had to be ripped up and redone. The infrastructure needed replacing, specifically the water main, storm sewer main and sanitary sewer mains. Because the below ground work was the most important part of the project, the above work had to be done too.
"The infrastructure of the utilities was getting to the point that, if not replaced, a future, larger issue could be foreseen," said Stephanie Allen-Pelletier, communications director for MarWest Industries, the prime contractor for the Columbia Avenue rebuild. "It definitely is more visually appealing; however, the important upgrades will never be seen. What makes the project worthwhile are things that the public will never notice and will easily forget—the infrastructure."
Thus far, from the top of Sherbicle Hill to the intersection at Columbia and 17th (by Safeway) has been completed underground. Storm drains are connected, the road is paved and most of the furniture (benches, poles and bus stops) and sidewalks are installed.
Still to be completed are the installation of two more bus stops, pet and people fountains, some concrete infills (where poles were taken out), line painting and some landscaping. Expect these modifications to be completed in the coming months.