A small, healthy empire
Castlegar-based Independent Respiratory Services Inc. is a recognized name in the field of pulmonary health in British Columbia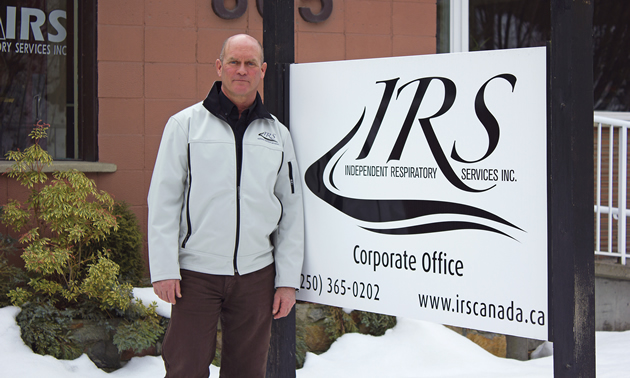 Castlegar, B.C., is the corporate base for a small, steadily growing empire. OK, "empire" may be a slight overstatement, but a company with 80 employees at 18 offices and 20 visiting clinics throughout the province is certainly noteworthy.
Independent Respiratory Services Inc. (IRS) is the baby of Keith Houghton, who grew up in Castlegar, moved away for 16 years and returned in 1994 as a registered respiratory therapist and owner of a fledgling company called Inspirations Respiratory Therapy.
A much-needed service
"My first respiratory work in the West Kootenay was at the Nelson hospital," Houghton said. "I covered adults, pediatrics and neonatal, and I was on call for the intensive care unit and emergencies all the time."
In 1997 Houghton started independent respiratory departments for hospitals in Nakusp, Castlegar, Grand Forks, New Denver and Nelson, focusing on pulmonary function diagnostic treatments for asthma and chronic obstructive pulmonary disease (COPD), and in-patient care.
"The arrangement was, if they could reach me, I'd come, and it was common for me to work 90 to 100 hours a week in those early years," Houghton said.
The next phases
The local physicians began to ask Houghton to provide sleep apnea testing. By 1998 he had started a new company called Independent Respiratory Services Inc., and had hired two therapists to work with him; Brett Kryski provided home respiratory care service in the West Kootenay and Doug Bradshaw covered the East Kootenay. For their efforts, these therapists were given shares in the company. From there, IRS expanded across the province.
When Interior Health Authority took over the respiratory departments at the hospitals in 2010, IRS's direct involvement at the hospitals was greatly reduced.
"When we started our home-care division, it was in smaller communities where they were under-served, and then we moved to the larger centres," said Houghton. "Vancouver is surprised when we tell them that our head office is in Castlegar, because IRS is one of B.C.'s largest providers of sleep apnea service and probably one of the largest home respiratory care companies as well."
Houghton's philosophy
Houghton said that the company's ultimate goal is to support its clients' health, and because respiratory health often necessitates a lifestyle change, education and support are important components of what IRS provides.
"We have become leaders in teaching about asthma and COPD," Houghton said.
IRS's therapies are done according to physicians' prescriptions, and commentary from all sides helps IRS to provide excellent service to the clients and physicians. Houghton said that as the company's managing director, listening to feedback from patients, doctors and employees is a foundational element of his job these days.
"I still travel around the province, meeting with physicians, sleep labs and staff to get feedback on how we're doing," Houghton said. "IRS is always looking for opportunities, and expansion plans are underway to start branch offices in other provinces. We want to make sure we have B.C. solidly covered before expanding elsewhere."