Yurt development pops up near Radium
Radius Retreat brings amenities like outdoor fire pits, solar-lighting and composting toilets to the development.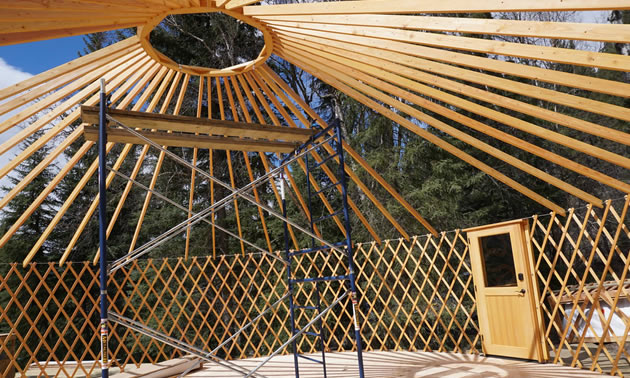 One of the region's more unique hospitality enterprises is now open and expanding in the Columbia Valley. Radius Retreat is a yurt development taking place just north of Radium Hot Springs on a 1,000 acre parcel of backwoods land. It's a wild, natural, quiet and serene setting right next to Kootenay National Park.
What is a yurt, you ask? A yurt is a round structure set up on a wooden base or foundation. Or more precisely according to the dictionary yurts are: "a type of round tent with a wooden frame, used traditionally as a home by some Central Asian people, and now sometimes used for camping in Western countries." Radius Retreat uses yurts manufactured by Pacific Yurts of Oregon.
"Radius is a space of natural peace and beauty—our yurts are truly in the wild: quiet, secluded and natural, and our trails are defined by history and the natural rhythms of the land," states their website.
The company has opened several yurts already and hopes to have six more constructed and open by later this spring. The company is owned and operated by Loren Braat and her husband Brian, along with Curtis Norman.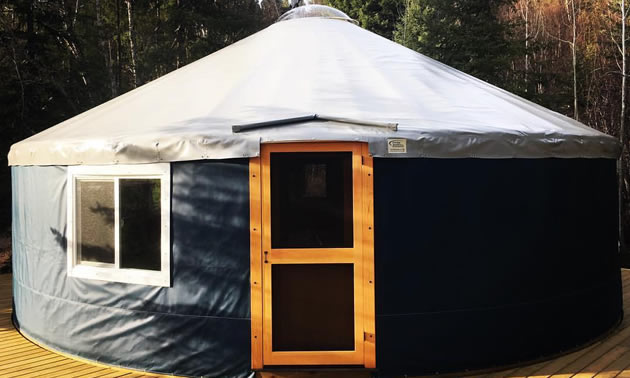 Radius Retreat brings amenities like outdoor fire pits, solar-lighting and composting toilets to the development. There are future plans to erect a larger yurt to serve as welcoming centre.
According to their application to the RDEK in the spring of 2017 the goals of the development outlined that, "Snowy Owl Ranch Inc. has a tenured lease agreement with Radius Retreat Inc. (Radius), which are both owned and operated by the same applicants. Radius plans to operate a forested mountainside retreat offering backcountry yurt rentals and a lodge for small gatherings and as a base for passive outdoor activities. The concept is to provide a place of natural peace and tranquility in a natural forested environment, while inspiring people to live differently. As a phased project, Radius Retreat will be looking at putting up 4-6 backcountry yurts this year, and then gradually adding more as bookings require. The final goal would be to have about 6 yurts on each parcel of land."
Radius Retreat is located 2 kms north of Radium Hot Springs, British Columbia, and backs onto Kootenay National Park allowing uninhibited wildlife flow and boundless trails for exploration. Situated on the west-facing slope of the Rocky Mountains, the spectacular 360-degree view overlooks the Columbia Wetlands and the Purcell Mountain Range. Radius is directly accessed from Hwy 95 by car, or clients can easily walk from town.