Workshop to discuss improving the health of the huckleberry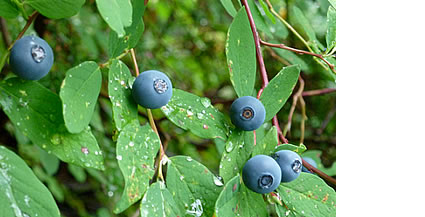 The black mountain huckleberry is perhaps the most important wild berry species for both bears and humans in Western Canada and the United States. Scientists and huckleberry pickers have noted changes in the structure of forests over the past century that are thought to be threatening the abundance and productivity of huckleberry plants. In light of these concerns there has been a diversity of research around our precious huckleberries by a number of key researchers.
On Wednesday and Thursday, February 22 and 23, 2011, the College of the Rockies campus in Cranbrook will play host to the Western Huckleberry Forum. This workshop will bring together huckleberry experts with resource managers and the public to provide an opportunity to learn about and discuss the latest research on this important berry.
Within the East Kootenay, Keefer Ecological Services Ltd. is just completing a three-year study on the abundance of huckleberries across nearly 100 different research sites in the Lamb, Moyie and Flathead drainages. Results from this project are expected to provide valuable information to land managers about how to enhance huckleberry production through sound ecosystem management.
The workshop will highlight the results from this and other projects and perspectives throughout B.C. and Washington. Though some of the presentations will include technical information, the presentations at this forum will use mostly non-technical language. This will allow them to be accessible to a wide variety of participants from the ecologist to the huckleberry picker.
The event will be highlighted with a keynote address on the evening of Tuesday, February 22, by world-renowned Ethnobotanist, Dr. Nancy Turner of the University of Victoria. Other speakers during the workshop include Andy Chittick (Forest Restoration Ecologist, Seattle Public Utilities), Wendy Cocksedge (Royal Roads University), Andra Forney (University of Victoria), Dr. Ron Ignace (former Chief of Skeetchestn Band, Secwepemc), Michael Keefer (Keefer Ecological Services Ltd.), Warren King George (Muckleshoot Tribe), Rick Kubian (Parks Canada), Joyce LaCompte-Mastenbrook (University of Washington), Randy Moody (Keefer Ecological Services Ltd.) and Dr. Scott Nielsen (University of Alberta).
These experts will talk about huckleberry ecology, ecological restoration (including prescribed fire), wildlife use of berry resources, historical uses of huckleberries and local knowledge of huckleberry ecology.
This forum has been organized by the B.C. chapter of the Society for Ecological Restoration and Keefer Ecological Services Ltd. with support from the College of the Rockies—Cranbrook. A limited number of seats will be available to the public free of charge for the keynote address. To register for the whole event including lunch and snacks during the workshop please visit the Society for Ecological Restoration - British Columbia chapter's website or email.