Welcome to the new Turret room at the Almo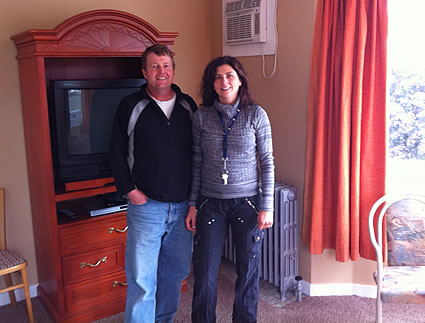 Turret room at the Almo Court undergoes a total renovation.
In architecture, a turret (from Italian: torretta, little tower; Latin: turris, tower) is a small tower that projects vertically from the wall of a building such as a medieval castle. In the case of Cranbrook, a turret is the most prominent feature of the Almo Court Motel.
Owners David and Kerstin Lario of the Almo Court Motel in Cranbrook are proud of their newly renovated turret room at the motel located on Van Horne Street.
The turret room offers one of the best views of Mount Fisher and the Rocky Mountain to the east—of any motel in Cranbrook. David Lario spent the last few months renovating the showpiece room from top to bottom—added special lighting, new carpets, new bay windows and furnishings. The Almo Court Motel offers 18 super clean rooms complete with air conditioning, high-speed Internet, in-room coffee, kitchens, a downtown location, non-smoking and smoking options.
Congratulations to the Larios on a great renovation of the Turret room.