Waste Not, Want Not at zero waste fullfill market in Kimberley
Products at Fullfill Market include bulk dry goods, spices, cleaning and personal hygiene products.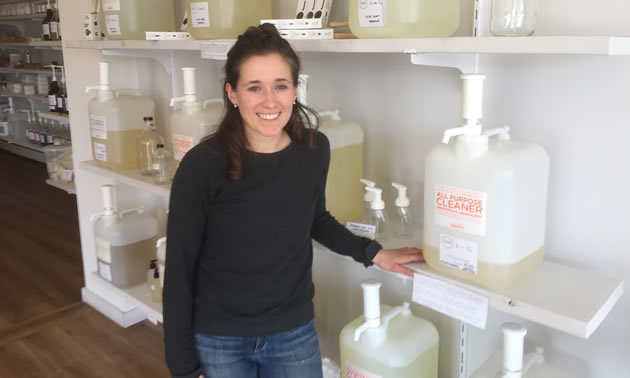 As one of the Kootenay's busiest entrepreneurs, Jill Bentley-Lobban is not an easy person to catch up with. I was happy to track her down in her new bright and cheery, zero waste store called fullfill market in Kimberley.
This may be the Kootenays first and only zero waste retailer. The concept is pretty straight forward and simple – why waste money and resources on buying consumer goods in wasteful throw-away packaging.
"I am inspired by the zero waste movement. I want to bring the concept and benefits to Kimberley and area," said Jill Bentley-Lobban. "Our products are natural, concentrated and all without unnecessary packaging."
At fullfill market you can purchase everything from laundry soap to deodorant and toothpaste in bulk. You can also purchase a re-fillable glass container or bring in your own container for re-filling – you get your favourite products without all the waste associated with it.
The fullfill market allows shoppers to bring their own containers and they also have sanitized glass containers available for filling. Products include bulk dry goods, spices, personal hygiene products and cleaning products.
"I would like to change consumer buying habits, so zero waste becomes just a natural option for them," said Jill. "It's a process and we are educating consumers on the savings and benefits of shopping zero waste."
In addition to fullfill market Jill Bentley-Lobban's other business interests include Centex, Coldstoke Juices, and most recently the Circle Health Foodstore in Invermere.
Fullfill market is located in the 400 Block on Wallinger Avenue in Kimberley.