Upper Elk Valley sees affordable housing solution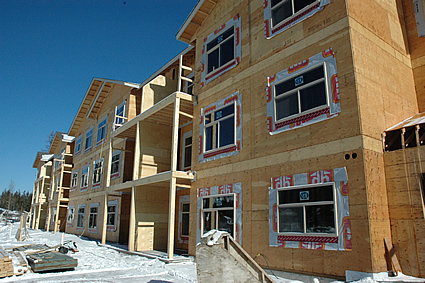 A new multi-family development is set to come on stream near Sparwood called Whitewood Development. The three-floor structure is being built by Parastone Ltd, a Fernie-based builder/developer owned by Simon Howse.
Attainable and affordable housing is a continuing issue in the Elk Valley, and based on the success Parastone has enjoyed with its Fernie Veneto Place development, a similar project in the upper Elk Valley was the natural next step.
"Here's our solution for the problem of the cost of housing." Simon Howse, general manager of Parastone, recently told Kootenay Business. "Our goal is to make landmark projects that make a distinct difference to communities."
The development is slated for a mid-summer completion date with a number of the units currently for sale. They will be sold on ready-to-move-in basis.
Simon Howse explained in an earlier interview with Kootenay Business magazine, "Primary reasons for creating Veneto (and Whitewood) were to provide private market solution to a public need, while generating further employment opportunities for existing employees as well as those seeking employment in the construction industry in the Elk Valley."

Both Veneto Place and Whitewood are affordable solutions to an increasingly tight housing market in the Elk Valley. Parastone is pleased to be continuing part of the challenge brought on by the local housing crunch.