Trail's Ferraro Foods brewing up a brand new Starbucks
The iconic coffee shop is slated to be up and running by summer 2017.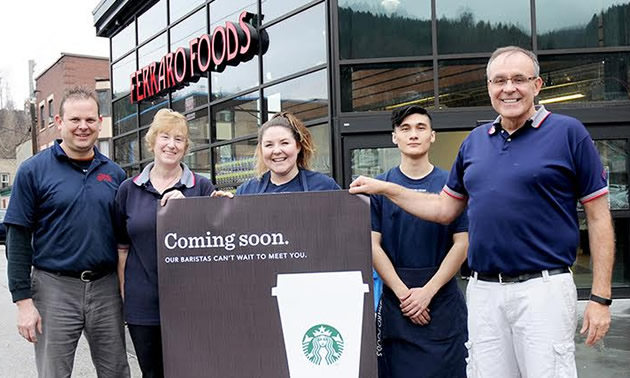 After months of rumours and more than a little speculation, Trail's Ferraro Foods has officially gone on record to confirm that a Starbucks Coffee Bar will be up and running in the store by summer 2017.
So yes, there will be a new Starbucks in the Silver City housed in one Trail's most popular shopping destinations, Ferraro Foods in downtown Trail.
The internationally popular coffee and tea bar will be located in the grocery store's new window-filled, spacious entrance area.
Pictured in this Facebook picture are Ferraro Food's Jodi Bradford, Karen Parkinson, Carolyn Whitley (Starbucks manager) Matthew Newton, and Danny Ferraro as they excitedly announced the new Starbucks to the local Trail Times newspaper.
Started in Seattle at the iconic Pike Place Market, Starbucks opened its first international location in Vancouver, British Columbia at the Seabus Skytrain Station in 1987. Now 30 years later, Starbucks and Ferraro Foods have teamed up together to bring the coffee shop to Trail.
(Posted with permission from Ferraro Foods Trail)