Top secret Google Trekker program revealed at Kootenay Rockies AGM
The province-wide project is one of the largest Trekker mapping projects ever undertaken in Canada.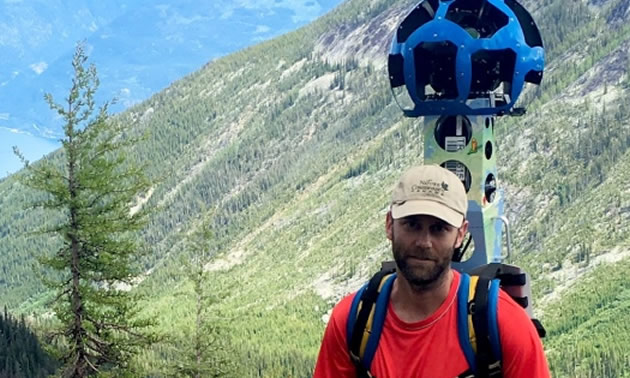 Last week a top secret Google Trekker program covering much of the region was revealed at the Kootenay Rockies Tourism (KRT) annual general meeting (AGM).
In her presentation to an audience assembled in a conference room at the Prestige Inn in Nelson, executive director of KRT, Kathy Cooper took the wraps off the summer long project.
The program saw Google Trekkers visit some of the most scenic and iconic areas of the Kootenay Rockies region including Mt. Assiniboine, the Bugaboo's, Kicking Horse Mountain Resort and its Via Feratta, Shelter Bay, Galena Ferry, Revelstoke, Kaslo, Idaho Peak, Valhalla Wilderness, Columbia Wet Lands, Golden Museum, Yoho National Park and the Nakusp area.
"The Google Trekker camera is like a 50 pound backpack that the hikers wear on their backs. It is part of a province-wide program set to launch next spring as a part of a Destination BC campaign," explained Kathy Cooper. "The images were spectacular but it isn't just all about the images, the project was about the trekking, interviews with local legends, virtual reality footage, still photography and content generation."
"It was considered a top secret project because Google was not sure how it would all turn out, so that's why you haven't heard much about the project until now," she added.
Destination BC made the Google Street View Trekker equipment available — the wearable backpacks outfitted with 15 separate cameras collected 360-degree panoramic imagery in remote outdoor locations mostly inaccessible by vehicles. Over the summer, teams from Destination BC, Kootenay Rockies Tourism, Google Canada and other regional tourism partners visited and hiked some the Kootenay's most spectacular areas and climbed majestic mountains to capture iconic destinations images rich in culture and history.

Using Google Street View, British Columbians and people from around the globe will be able to virtually hike in some of the province's vast wilderness and be inspired by the powerful nature they see around them. After the images were collected, they are sent to the Google Maps team in California to be processed and uploaded to Google Maps. When the images go live on Google Maps, British Columbia's wild places will join a select group of bucket-list Street View Trekker destinations such as the Pyramids of Giza, the Grand Canyon and the Galapagos Islands.

The province-wide project is one of the largest Trekker mapping projects ever undertaken between a provincial tourism marketing organization and Google in Canada. The teams trekked more than 1,500 kilometres (930 miles) throughout BC, including the Kootenay Rockies, to visually map a collection of must-see destinations in every region of the province.