Tom's Gray Creek Part II—a Kootenay Lake memoir, 1946 to 1980
Tom Lymbery's new book is available at quality bookstores throughout the Kootenays.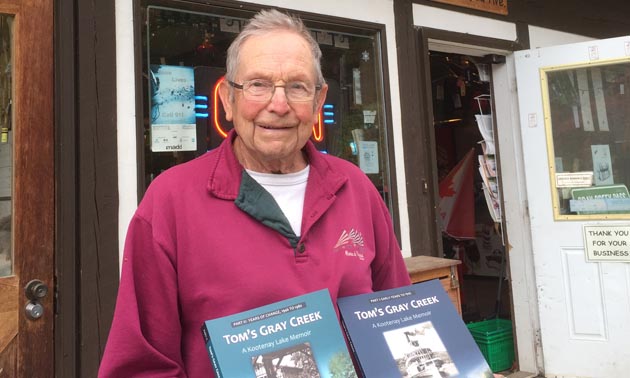 Tom's Gray Creek, Part II continues the story of Kootenay Lake and takes it into the modern era. The story is told by Tom Lymbery who was raised in the Gray Creek general store as the great sternwheelers landed at his doorstep. Part II tells of the big changes after WW II, that Tom was there to meet and take an active role through the store and within the greater community.
Tom writes about the ferry landing move from Gray Creek to Kootenay Bay, where the sternwheelers were retired in favour of newer car ferries. Read about the Cominco mine coming alive in Riondel, bringing people and jobs, as well as electric power with the longest power span in the world strung across the lake and further over the Gray Creek Pass to supply the giant Sullivan Mine in Kimberley. Renowned Kokanee Springs Golf Resort replacing farms and orchards. Tom's general store and Auto Camp were there to meet the growing community's needs which includes chainsaws and general Insurance. He even sells Autoplan over the store counter, until building a much larger store with an insurance office.
Tom's Gray Creek, Part II links the East Shore of Kootenay lake and its people to the broader history of rural British Columbia and Canada, and paints an engaging portrait of the changing culture and lifestyles of the Kootenay Lake region.
With a foreword by author Anne DeGrace, the book is illustrated with 300 photos, artwork, objects, maps and family trees, and is complete with a glossary and index. With 363 pages this is a longer book than Part I but carries the same list price of $29.95. Available at quality bookstores and museums.