Tie Lake Dam Project largely complete
The total cost for the project was $450,000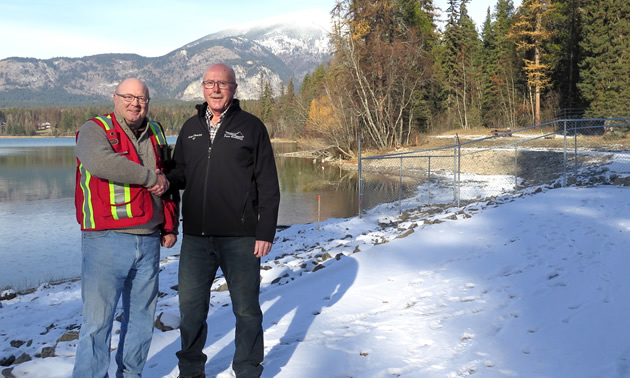 The Tie Lake Dam project is substantially complete and the new dam structure is in place.
Construction started earlier this fall and included raising the height of the dam to allow for more freeboard; installation of seepage control and a new spillway. "The larger size of the dam has reduced the risk of the dam being overtopped by high water as has nearly happened a couple of times in the past few years," explains Engineering Technician Brian De Paoli.
As part of the project, the weir, known as a Cippoletti weir due to the v-shaped notch in its design, has been fenced. Although the dam height has been increased, the average lake level is not expected to change. "The dam height will help prevent issues during high water and flooding; however, at this time the structure is not intended to raise the level of the lake beyond the previous seasonal norms," adds De Paoli.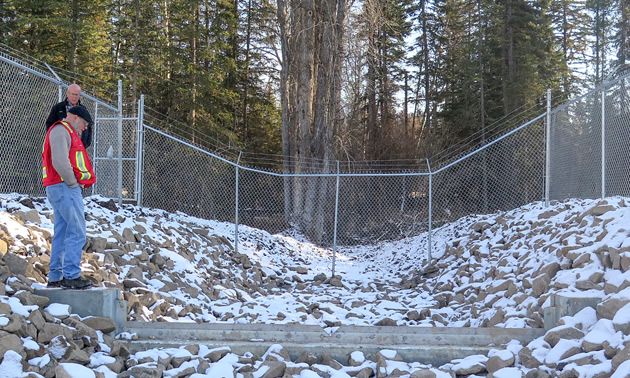 "It is great to see this project completed. We now have a dam structure that meets the safety objectives of the Dam Safety Officer, and that will meet the needs of the community for years to come," says Electoral Area B Director Stan Doehle. "We are also very grateful to the Community Works Fund for funding 86% of the project."
Although the disturbed areas around the project site have been re-seeded, the RDEK will be back on site in the spring to undertake further vegetation measures and monitor the progress of the seeding.
"We would like to thank the residents and property owners of Tie Lake for their patience as we worked through the process of rebuilding the dam. We also would like to thank our consulting engineer Associated Engineering and our contractor Ironclad Construction for their efforts throughout the project," adds De Paoli.
The total cost for the project was $450,000.