"The Office" opens in Rossland, offers flexible workspace
The Office - Rossland is conveniently located downtown and offers hourly, daily and weekly co-work agreements.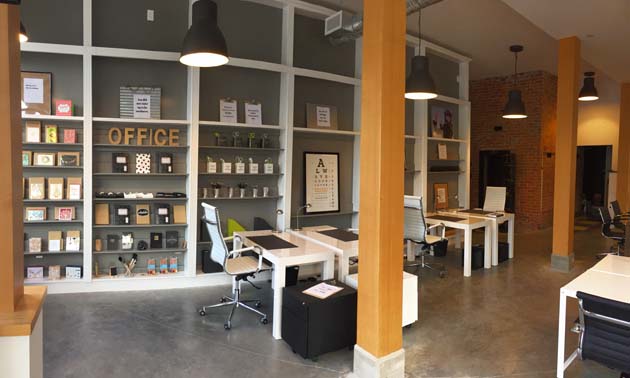 In today's mobile world, having a location to work from remotely makes a lot of sense. That is exactly what Courtenay and Anthony Jewitt are now providing with their new workspace in Rossland called The Office.

"My husband, Anthony Jewitt, is my partner in The Office - Rossland. While he is currently working for a company based in Texas, he is working remotely here at The Office - Rossland! Actually, that is how I came up with the idea to open a co-working space," says Courtney Jewitt. "While our two older sons are at university in Montreal, our youngest son is just ten years old and still at home. The idea of being separated by distance was tough on him as he is on the autism spectrum. In an attempt to "lure" my husband here, I created The Office - Rossland."

Courtney explains that her family has deep roots in the Rossland area, "My husband's parents and grandparents lived in Trail (British/Jewitts /Cominco and Italian/Laurientes/Mayor of Warfield). Rich history for my husband here in the Kootenays. We have a cottage at Christina Lake so nice to be able to reside in Rossland and be close to the lake."

She adds, "My husband has been in software for over 30 years. He has worked for everyone from Oracle to Price Waterhouse Cooper to Business Objects to his current employer, Avalon Consulting LLC. Like Mike, he believes that bringing technology companies into our area is key to our growth and continued success. Rossland is ready for prime time!"

Here are some other key highlights of The Office:

The space is modern, professionally equipped and located in a Heritage building right on the main drag in downtown Rossland. Less than a five minute walk in any direction will link you with local independent coffee shops, cafes and restaurants. Rossland offers a variety of boutiques and retail stores that carry everything you could find in the city. Best of all? You can do all these things during your lunch hour.

Hourly, daily and weekly agreements allow for mobility and growth. We offer hourly space on a first come, first serve basis or dedicated desk space on a daily or weekly basis. No hassle of signing a lease with a landlord. No extensive paperwork to complete. No utility bills to pay. Freedom to work when you need to work. Business services available on site. Convenient and easy for you – the office.

Network with other entrepreneurs and creators on a daily basis through our open office concept. From stay-at- home parents expanding their home-based business to technology startups not quite ready to take on a full office obligation to architects wanting an inspiring space to meet with their clients - everyone works out of the office. Our clients are a diverse and inclusive community seeking a flexible work-life balance.

The Office is located at 2105 Columbia Avenue, Rossland BC V0G 1Y0. Email is [email protected]. Phone is 250-512-9421. Facebook page is The Office - Rossland.