Textiles Studio at Selkirk College offers inspiration and career opportunity
Creating with fibre is an old-world skill that's coming back with a vengeance as more people wonder "who makes my clothes?"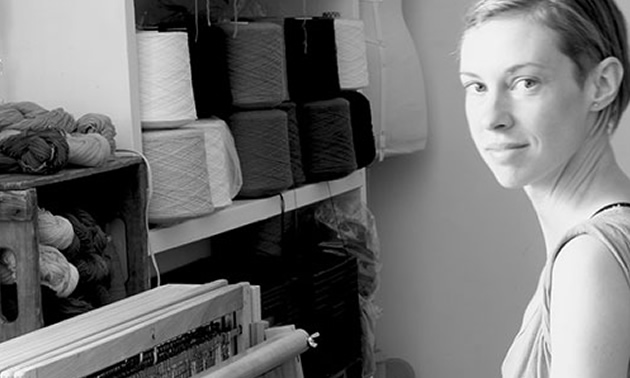 Creating with fibre is an old-world skill that's coming back with a vengeance as more and more people wonder "who makes my clothes." The Textiles Program offered at Kootenay Studio Arts at Selkirk College connects students to the creative and diverse form while providing both passionate outlet and career opportunity. Three alumnae share their journey through the fibre arts.
Weaving — a labyrinth of love
With the Toronto Outdoor Arts Exhibition just wrapped up, Selkirk College alumna Dani Ortman is busy in the studio preparing for the next showing of her handwoven scarves. It was over seven years ago that Ortman went to a show in Toronto as part of a field trip with the Kootenay Studio Arts. She was studying Textiles with hopes of pursuing a career in fashion design and this hands-on experience was most beneficial in finding her path.
"My mom had bins of fabric and when I was younger I would dress up in these fabrics – wrapping them into 'couture' dresses and inadvertently learning about how fabrics feel, how they fall and how they move," Ortman says. "And then from there came the question, how are they made?"
Ortman, from Regina, Saskatchewan, chose to study KSA's Textiles program because it offered a full spectrum covering everything from weaving and dyeing to pattern drafting and garment construction. She discovered weaving while studying at the Selkirk College campus in downtown Nelson and it captivated her.
"Crafting the cloth itself is a labyrinth of love I'm presently lost in," says Ortman. "I love the math and the concept of perfect order. I am charmed by the physics of colour, and how I can make them dance in ways that are visually stimulating. I love spending hours upon hours arranging threads into meticulous designs. And then watching my visions manifest in to a piece of cloth, through the simple – yet wildly complex method, of interlacing threads."
Now living on Manitoulin Island, Ortman is in year two of a full-time career as a weaver and she says there is nothing she'd rather be doing.
Finding her passion
Claudia Ring thought she would work in her career as a psychologist for a lifetime but after 40 years in the profession she wanted something fresh for herself. Ring moved to Canada 27 years ago from Hamburg, Germany. The 100 Mile House resident, involved in the Central Cariboo Arts & Culture Society, was attracted to the beautiful school in Nelson and started attending KSA in 2014.
"The instructors were wonderful, supportive and interesting people," she says.
Motivated by class assignments such as "make a garment for a person you admire," and "capture a childhood memory," Ring created art with personal meaning and intention.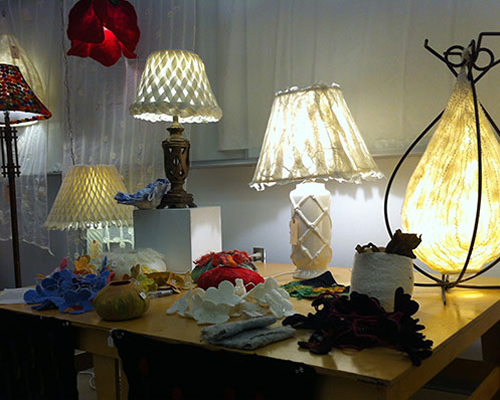 "I remembered going to the monastery when I was little in Germany, seeing the nuns and hearing their songs," she says. "In school, I was learning skills but it translated into something that was meaningful in my life. It was inspiring to me."
Focused on the skill of felting which captured her interest, Ring's experience at KSA has provided her with a passion to carry her into retirement. She sells her creations in local shops and markets and gives workshops wanting to share her abilities with others, especially young people.
"I think it's important for young people to learn something like this, to make their own clothes or be creative or make something for other people – work with their hands," she says.
Doing what you love
Rebekah Krahn, 22, just graduated from the Textile Studio took the program to pursue a passion she's had since childhood – hands-on creating with textiles. From Armstrong, BC, she found the KSA offering challenging and gratifying.
"It was very rewarding and satisfying seeing the final outcome of each project and class. To see where you began, what you learned, followed by final projects, was incredibly rewarding and very time worthy," she says.
She discovered new enjoyment in working with plant dyes after a seven-week long natural dye class. While she's not on the verge of a career in textiles at this point, she plans to continue her practice on her own as much as possible.
"I fell in love with it immediately," she says. "My plans are now to set up a home sewing studio as well as a dye kitchen and take what I've learned, and explore it to the max."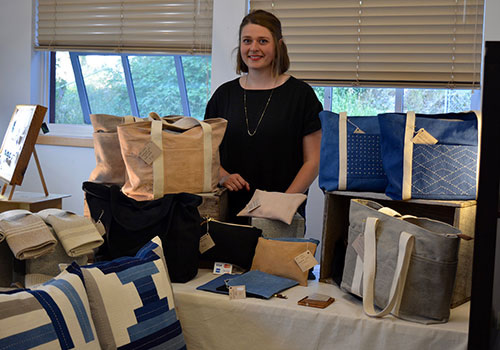 Krahn loves being able to express herself through organic textures, natural colours and simple designs secure in the knowledge her creation will be cherished.
"I do what I love solely because it makes me incredibly happy. When I can create something from scratch, for example, dyeing the thread, weaving it, drafting a pattern, and then creating something from that worked cloth, it fills my heart with joy knowing that I made and it will be treasured and taken care of and appreciated so deeply."
Learn more about Kootenay Studio Arts at Selkirk College and follow us on Facebook.