Teck's Elk Valley Water Quality Plan approved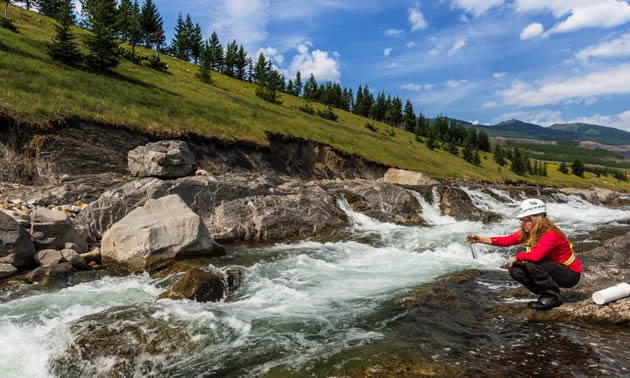 Following substantial input from regional, federal, Ktunaxa Nation Council, and Montana and United States experts, an Area Based Management Plan submitted by Teck Resources Limited was approved today by Environment Minister Mary Polak. The plan was developed to address high levels of selenium and other contaminants in the Elk Valley watershed associated with decades of coal mining activity in the region.
The plan, called the Elk Valley Water Quality Plan, details how increasing selenium and nitrate concentrations will be addressed through science-based water quality targets established for seven key indicator monitoring stations. An implementation plan sets out how the company plans to achieve these targets in the short-term, medium-term and long-term. Cadmium and sulphate will also be tracked and assessed, along with the planned reduction of calcite formation.
The details of a monitoring program for the watershed are also set out in the plan. Results will help guide treatment actions and manage future development activities in the watershed.
As part of the plan, Teck will construct water diversions and water treatment facilities at a number of their mine sites. This will include planned facilities at their Line Creek, Fording River and Elkview Operations, and additional water treatment and/or mitigation measures needed to meet the Plan objectives. Combined with an increasing suite of monitoring data and advances in treatment technologies, these actions are expected to lead to improved water quality.
The plan, which will also help maintain local jobs and economic development, was developed in response to a ministerial order issued in April 2013. The order instructed Teck and other companies with coal mining tenures in the region to take steps to stabilize and reverse water quality concentrations for selenium, cadmium, nitrate and sulphate and the formation of calcite.
Significant consultation with the public, the Ktunaxa Nation Council and other First Nations, various levels of government, and other stakeholders contributed to the development of the plan. A technical advisory committee, established as part of the original ministerial order, also provided numerous science-based technical recommendations.
This plan covers the entire Elk Valley watershed, including Fording River and the Canadian portion of Lake Koocanusa, and will ensure any future decisions affecting water quality are made within the context of the entire watershed and not just individual sites.
The Elk Valley Water Quality Plan can be viewed online.
Key Quotes:
Mary Polak, Minister of Environment –
"This plan represents the next step in the long-term plan to ensure a healthy watershed in the Elk Valley. Many different groups have come together to find solutions, but I would especially like to thank the Ktunaxa Nation and Teck Resources Limited for their constructive and collaborative efforts to protect our environment."
Ktunaxa Nation Chair Kathryn Teneese –
"I must commend the many organizations involved in creating the Elk Valley Water Quality Plan and their willingness to work together to achieve our common goal of ensuring a healthy and sustainable Elk Valley watershed for future generations. Ktunaxa Nation government staff and consultants have worked very closely with staff from Teck and the government of B.C. to reach agreement on all aspects of this plan which provides a very important foundation for addressing the critical water quality issues in the Elk Valley watershed. We are very pleased that the environment and all the living creatures it supports is a top priority."