Taqueria el Corazon restaurant opens in Kaslo
Original art, great lighting and decor reveal an incredible knack for creating atmosphere.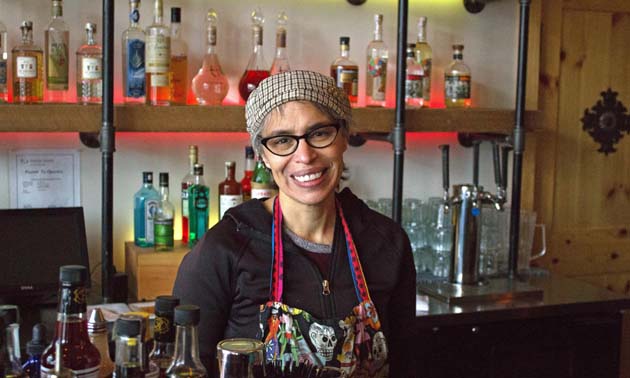 Kaslo has a new restaurant! Taqueria el Corazon started as a food truck, but recently, owner Betty Gutierrez decided to put down roots and set up a brick and mortar space. Walking in, one can immediately see that Betty's talent goes beyond preparing delicious food. Original art, great lighting, and decor reveal an incredible knack for creating atmosphere. When we stopped by Betty was setting up for opening night. We managed to slow her down just long enough to ask her a few questions about what it's like to be an entrepreneur in Kaslo BC.
What made you want to start your business?
Growing up in a traditional Mexican family, we were always celebrating life events with food….lots of it! My mother is passionate about food (she passed this same passion on to me) and has the reputation of making the most delicious dishes. She inspired me to take my years of cooking professionally for others to the next level; to create my own vision. My partner Dan Wyker of Between Heaven and Earth manufacturing sparked the entrepreneurial spirit in me to follow this through. With the support of Community Futures; my vision was realized!
What is it like to do business in Kaslo?
The advantages of doing business in Kaslo are that we are part of a close-knit community who supports each other. Kaslo looks like a postcard all year round that makes it a visitor's dream location. Tourism is key for us here. Disadvantages are we have long winters, limited access to amenities and a small population base.
How has working with Community Futures helped? What was the best piece of business advice you received?
Without the support of Don McCulloch and Community Futures loan program, this endeavour wouldn't have been realized to the level we have been able to create. The best piece of business advice I received is "do the numbers" they don't lie!
Do you have any suggestions for anyone thinking of starting a business?
My suggestion for anyone wanting to start a business is to take the steps to formalize a business plan and be prepared to work hard, having your own business doesn't mean you work less, you just work towards something you love.
Source: Community Futures Central Kootenay newsletter