SunMine fast facts and background
The SunMine in Kimberley, B.C. is an energy trendsetter as these interesting facts prove.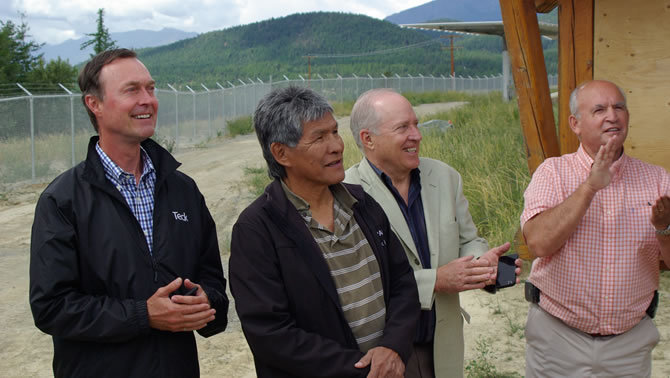 The City of Kimberley officially launched its newest project when they announced that the SunMine is commercially operational. The SunMine is a 1.05 MW (megawatt) solar project is B.C.'s first grid-connected solar facility, as well as being Canada's largest project to use solar trackers.

SunMine consists of 4,032 solar-cell modules mounted on 96 trackers which follow the suns movement, thereby maximizing solar exposure. The German-engineered trackers provide as much as 38% more energy than a fixed system. The trackers capitalize on the electricity generated during the morning and evening, peak demand times when BC Hydro has the greatest need for electricity and pays a premium for it.

Production data since June 22nd confirms that the energy being generated by the SunMine is exceeding the modeled design potential.
Here are some fast facts and the history/background on the project......
Fast Facts
SunMine is:
A 1.05 megawatt solar power plant constructed on the former site of Canada's largest underground mine within City limits.
The first large-scale solar facility in Canada to use solar trackers.
The first re-development of a former mine site into a solar facility in Canada.
The first large-scale solar photo-voltaic facility developed, owned, and operated by a Canadian municipality.
The first grid-connected solar facility in British Columbia.
The first installation 1000V DC solar installation outside of Ontario.
The highest altitude solar facility in Canada at 1,200 M.
SunMine trackers optimize solar exposure in two dimensions, and sense loads to shed snow and wind.
Brief History and Background
2008: City of Kimberley and Teck are approached by EcoSmart.
2008 thru 2010: EcoSmart and the City work to develop SunMine concept; apply for funding; undertake on-site energy testing with solar PV systems.
2011: SunMine selected to receive $1M in funding through the Province of BC Innovative Clean Energy Fund.
2011: Public presentation on the SunMine concept, including the preliminary business model and yield projections.
2011: Teck announces a $2 million contribution to SunMine.
2011: 76% of referendum voters are in favour of the City borrowing $2 million towards the construction of SunMine, to be repaid through SunMine revenue.
2011-2013: Roles, responsibilities, and ownership are negotiated.
2012: Significant changes to project ownership structure are negotiated to comply with funders' requirements.
2013: Request for Qualifications (RFQ) are issued and evaluated and Conergy Canada is selected as Prime Contractor.
2013-2014: 18 agreements and contracts are developed with eight different organizations.
April 2014: City Council decision to proceed with construction.
June 2015: SunMine begins commercial operation.