Summer season kick-off for Cranbrook Farmer's Market
The Cranbrook Farmer's Market is more than a place to shop for local food and produce - it's a place to connect with friends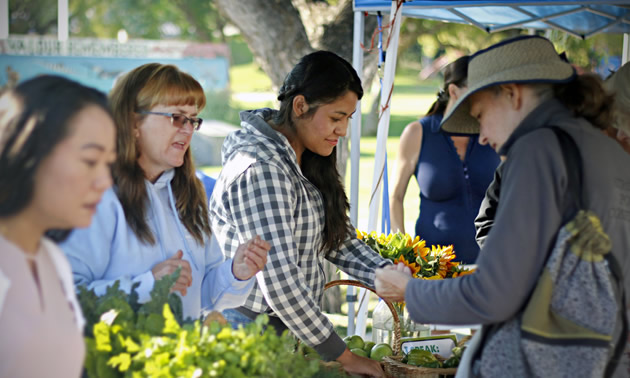 The Cranbrook Farmer's Market will host its first 2019 summer market this Saturday, June 22, 9 a.m. to 1 p.m.
Be sure to check out the Cranbrook Farmer's Market this summer! They have planned a vibrant and busy season showcasing the harvests, talents, and treasures of our region! More than 50 vendors will set-up on 10th Ave S. beside Rotary Park, downtown Cranbrook, to sell hand-crafted, home-made, locally-grown and produced items.
Throughout the outdoor 2019 season, the Cranbrook Farmer's Market will host a variety of performers, musicians, and fun activities for the whole family. The season kick-off, on June 22, will be ignited by the local group Slow Joe Crow, composed by Trevor Crawley, Alison Kidd & Matt Kidd, from 10 a.m. to noon featuring folk songs, acoustic guitars, banjos, harmonicas, and hillbilly hip-hop.
The Cranbrook Farmer's Market has become so much more than a place to shop for great local food & produce. It's a place to connect with friends, to celebrate local business and farming, and to stroll with no set agenda. It is a place to learn things and meet people. The market provides an opportunity to surround yourself in Kootenay culture and enjoy the abundance of flavours, textures, and talents it has given root to.
The Cranbrook Farmer's Market Society also want to acknowledge the Regional District of East Kootenay, Regional District of Central Kootenay, Community Foundation of the Kootenay Rockies, Columbia Basin Trust, Cranbrook Tourism and local sponsors for their generous support this year, which made it possible for us to enhance market operations.
For more information on the Cranbrook Farmer's Market, or to join the board or become involved as a volunteer, visit www.cranbrookfarmersmarket.com or find the @cranbrookfarmersmarket on Facebook and Instagram.