Subaru of Cranbrook celebrates official Grand Opening
The new Subaru dealership is located at the north end of Cranbrook and is open 6 days a week.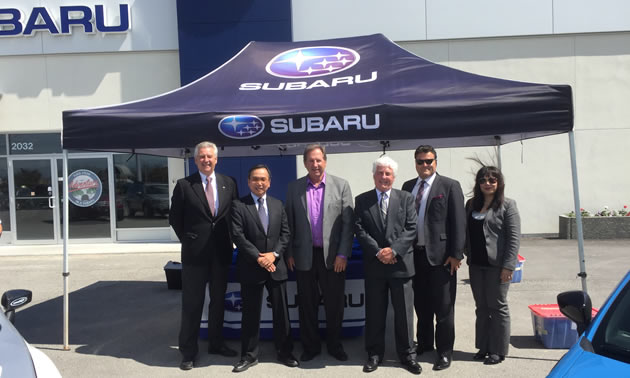 The stars aligned perfectly at Subaru of Cranbrook on June 7th as the company celebrated the official grand opening of their newly renovated and expanded dealership.
Dealer principal, Jim Szakacs and his team at Subaru of Cranbrook were honoured to welcome the chairman, president and CEO of Subaru Canada, Mr. Shiro Ohta, along with Don Durst, Senior Vice President of Sales and a number of other head office executives.
The newly renovated 10,000 square foot dealership sports a spacious, welcoming showroom, state-of-the-art service facility, an expanded parts and accessories department and modern executive offices for management and staff.
"I think (working in the auto industry) is just an adventure every day because people are very excited about buying new vehicles—it's kind of a contagious excitement," said Jim Szakacs, in an earlier Kootenay Business interview.
Subaru is a Japanese word that translates loosely as "come together." It's based on the star cluster Pleiades [ply-uh-deez], which the Japanese identified in the 8th Century as having six stars. These stars figure prominently in the Subaru logo, and Fuji Heavy Industries, Subaru's parent company, recently announced that they were going to rebrand themselves as the Subaru Corporation, stars included.
"Subaru of Canada is on pace in 2016 to set a sales record with over 50,000 cars sold. Subaru has an excellent brand and a very dedicated line up of dealers with a great reputation – like this one in Cranbrook," said Don Durst, Subaru's VP of sales. "There are 92 Subaru dealers in Canada. We are all about safety and value."
For example, their Legacy and Outback lines speaks to the longevity of the vehicles with 98% of the models sold a decade ago still on the road today, he added.
Durst is particularly proud of the fact that Subaru has the top residual value of any automotive brand in Canada. The Japanese-based company has been in Canada since 1978 and the company will sell over one million cars worldwide in 2016.
He said the Outback and Forester models tend to be the bestselling models in the Canadian market. Subaru of Cranbrook is located at the north end of Cranbrook and is open 6 days a week.
Subaru of Cranbrook has a star waiting for you at their spacious new dealership.