Student scientists win big at the regional Science Fair
The 2016 regional student science fair was held on April 2 at LV Rogers Secondary School in Nelson, B.C.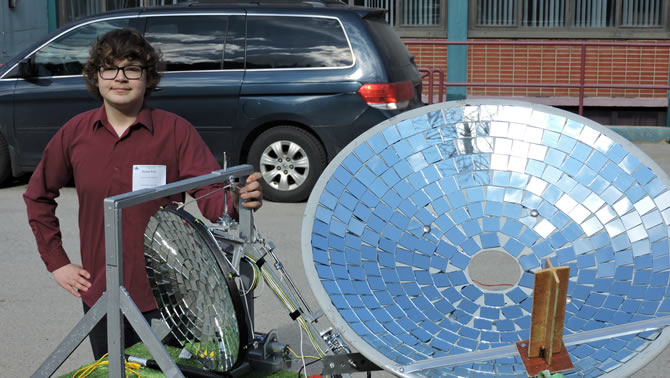 In three years, Dylan Peil has racked up numerous awards for his innovations in science and has now qualified three times to attend the Canada-wide Science Fair from May 18-20 in Montreal, Quebec. This year Dylan will represent the West Kootenay Boundary Region in Montreal along with fellow winners Marisa Price and Johanna Brochhagen, both from Trafalgar Middle School.
The 2016 regional student science fair was held on April 2 at LV Rogers Secondary School. It was open to students from across the Kootenay Boundary region and featured 95 projects in experiments, innovation, and research.
Peil, in grade 9 at LV Rogers Secondary School, designed and prototyped an Active Solar Tracker using a satellite dish covered with mirrors. His efforts netted him the Michael Crooks Physics Award ($75), and Gold in the Intermediate Innovation Division. He will be traveling to Montreal in May.
Marisa Price, in grade 7 at Trafalgar, won Gold in the Junior Experiment Division for "Are My Hands Really Clean?" She also won the Al Appleton Worksafe Award ($100) and will be traveling to the Canada-wide fair.
Johanna Brochhagen received a silver medal in the Junior Experiment Division for "Do Screens Affect Reading Comprehension" and netted the BC Science Teacher's Award ($75). She too will be traveling to Montreal for the Canada-wide event.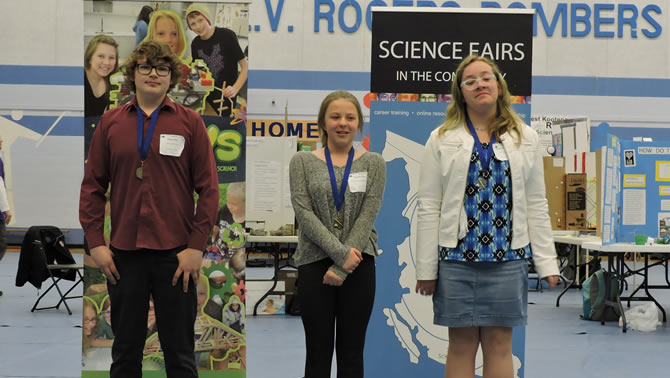 This year's regional science fair was a success for many others as well, with ten other students winning individual awards and fifty-eight students winning gold, silver or bronze in the research, experiment or innovation categories.
Individual awards are sponsored by organizations and businesses that want to support research and innovation in specific fields such as engineering, physics, agriculture, heart disease or genomics. Individual award winners won a total of $1,025 with individual awards ranging from $75 to $200.
Schools represented at the fair included, from Kootenay Lake School District – Trafalgar Middle; LV Rogers Secondary; Nelson Christian Community School; Ecole des Sentiers-Alpins; Blewett Elementary; Hume Elementary; and Rosemont Elementary; St. Joseph School; and Heritage Christian Online School. From Kootenay Columbia, participating schools were St. Michael's School; Webster Elementary; Maclean Elementary; Glenmerry Elementary; Rossland Summit School; and Adam Robertson Elementary.
GLOWS is providing $2,300 in funding to assist the students with travel to Montreal for the 2016 Canada-wide Science Fair. Hundreds of the country's brightest young scientific minds will attend this year's event, competing for medals, cash awards, scholarships and other prizes worth approximately $1 million.
About GLOWS
GLOWS is part of a long-term economic development strategy that strengthens youth interest and engagement in science and technology, encouraging youth to pursue science and technology education and careers. Investing in youth and supporting their pursuit of careers that can strengthen our regional economy is the ultimate impact of the GLOWS program.