Sparwood's Tim Hortons now open
The new Sparwood location opened on December 11th, 2015.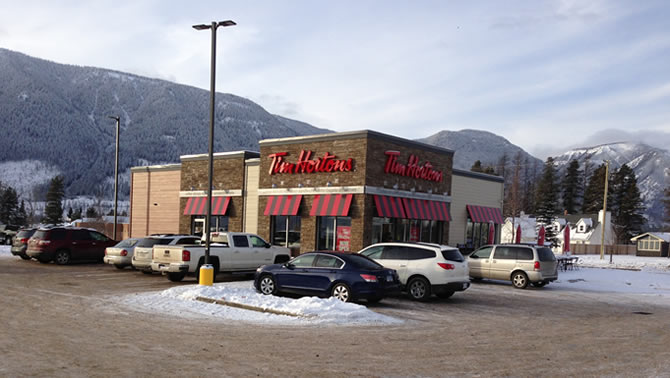 Mark Nelson and his wife recently swung the doors open at their newest Tim Hortons franchise just off of busy Highway #3 in Sparwood. The Nelson's also own the Tim Hortons restaurants in Pincher Creek, Blairmore and Fort Macleod.
The 24-hour location employs over 30 people, all residents of the Sparwood area, expect the store manager.
Tim Hortons has evidently had their eye on Sparwood for some time and from their busy opening weekend it would appear that Sparwood residents really like having easy access to some Timbits and coffee.
The new Sparwood location opened on December 11th, 2015.
Tim Hortons, part of Restaurant Brands International, is one of North America's largest restaurant chains operating in the quick service segment. Founded as a single location in Canada in 1964, Tim Hortons appeals to a broad range of consumer tastes, with a menu that includes premium coffee, hot and cold specialty drinks (including lattes, cappuccinos and espresso shots), specialty teas and fruit smoothies, fresh baked goods, grilled Panini and classic sandwiches, wraps, soups, prepared foods and other food products. As of September 30, 2015, Tim Hortons had more than 4,700 system wide restaurants located in Canada, the United States and the Gulf Cooperation Council. More information about the Company is available at www.timhortons.com.