Sparwood's North Coal celebrates sixth anniversary
The startup company now has a staff of 11 people, up from just 2 employees at its start.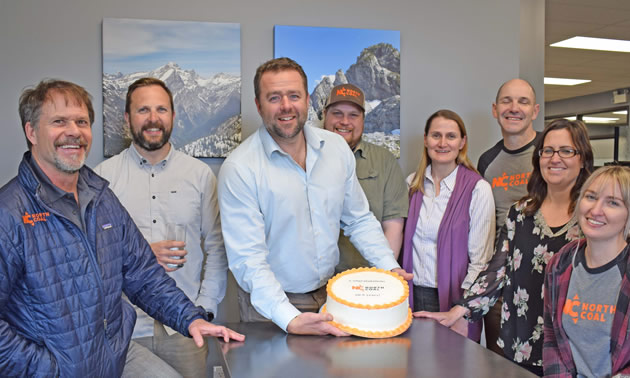 It was time to dish out a celebratory cake recently at Sparwood-based North Coal. Not only was the resource development company celebrating their sixth anniversary but they also were celebrating the move into to their new corporate office on Sparwood Drive, just off busy Highway #3.
The startup company now has a staff of 11 people, up from just 2 employees at its start.
North Coal has been active since 2012 and is currently completing federal and provincial environmental assessments and consulting with local stakeholders. The company anticipates mine construction to start in 2021 and the production of steelmaking coal is slated to begin in 2022.
The project began in earnest in 2013 when CanAus (now North Coal) was granted three coal licenses to begin the Michel Coal Project.
North Coal Limited, a wholly owned subsidiary of Australia's CoalMont Pty Ltd., proposes to construct, operate, decommission and abandon a metallurgical coal mine located approximately 15 kilometres southeast of Sparwood, British Columbia, in the Elk Valley. As proposed, the Michel Coal Project would include three open-pits and produce between 2.3 and 4 million tonnes of raw coal per year, over a mine-life of up to 30 years.
About North Coal
North Coal Limited is a Canadian resource company based in Sparwood, British Columbia dedicated to providing a long-term source of hard coking coal for global markets.
We operate with a small, dedicated and expert team led by seasoned mining and environmental professionals. Our leadership team has decades of experience and expertise in a variety of resource-related disciplines including mining operations, coal production, permitting, water and wildlife management, reclamation, government affairs, community relations, First Nations engagement and economic development, among other areas.
Our business model aligns company goals with community objectives. Our current operational staff live and work in communities where we operate, regularly engage with local residents and support community development. All staff follow responsible mining and environmental practices embracing continuous improvement to manage risks and effectively minimize the impacts of our activities. We work to understand the socio-economic challenges of our communities and target our social investment programs to improve the quality of life in areas where we operate.