Several Kootenay-based companies up for Small Business BC awards
Recipients of Small Business BC Awards are recognized with the Premier's Prize in the amount of $1,500 cash.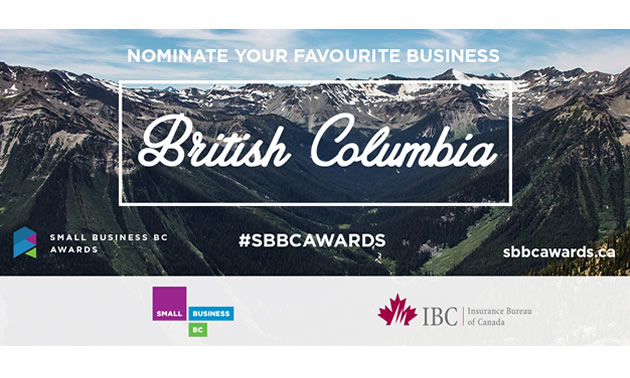 Small Business BC, the province's premier resource for entrepreneurs, and the Insurance Bureau of Canada, opened nominations and voting for the 14th Annual Small Business BC Awards.

The Small Business BC Awards is the largest small business awards competition in the province. These awards recognize the outstanding achievements of BC's entrepreneurs and celebrate the contributions that new and existing businesses registered in BC, with fewer than 50 employees, make to their local communities and the global economy.

Nominations and voting close on November 30, 2016. Entrepreneurs are invited to nominate their businesses and the public is encouraged to nominate their favourite small businesses in any of this year's 10 categories:
Premier's People's Choice
Best Apprentice Training
Best Community Impact
Best Company
Best Concept
Best Employer
Best Immigrant Entrepreneur
Best Innovation
Best International Trade
Best Marketer
Here are some of the Kootenay-based companies nominated so far:
Best Community Impact Award—Brook Public Relations Firm, Cranbrook
Best Workplace—Mandala Homes, Nelson
Best Concept—Birch & Lace, Revelstoke

Premier's People's Choice—Sue's Clothesline, Creston

The Best Community Impact Award, sponsored by Vancity, goes to the company that's truly making a difference in their community. This business has taken positive action to invest in their community and sees social responsibility as an integral part of the business' success.
Recipients of Small Business BC Awards are recognized with the Premier's Prize in the amount of $1,500 cash. The winners are also offered a one-year all-access pass to Small Business BC education, resources and experts, and one-on-one business mentorship opportunities with notable advisors from the award sponsors.
Nominated business owners are tasked with gaining as many votes as possible through social media, word of mouth, e-mail or any other means by November 30, 2016 to make it to the Top 10 in each category. The Top 10 will be announced as finalists on December 12, 2016. The winners of each category will be announced at the Small Business BC Awards Ceremony on February 23, 2017 at the Pan Pacific Vancouver Hotel.

More details on the Small Business BC Awards can be found at www.sbbcawards.ca.

About Small Business BC

Small Business BC provides entrepreneurs with the information and guidance necessary to build a solid foundation for their business. Through a wide range of products, services, education and resources there's a piece that fits with every business. No matter what stage or what skill level, when an entrepreneur finds themselves asking "How do I...?" Small Business BC is the one to call.