Selkirk College opens new carpentry shop at Silver King Campus
The new shop features high ceilings, an abundance of natural light and a sizable outdoor workspace.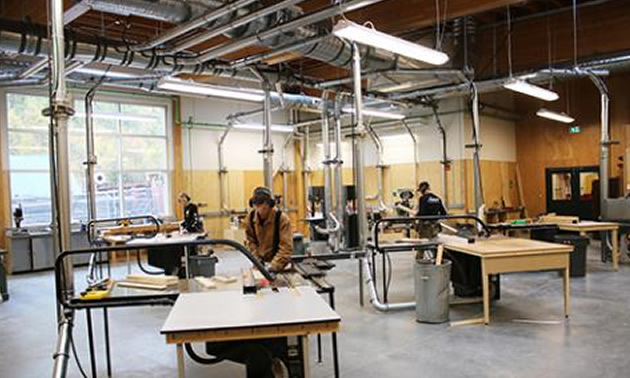 The sound of whirring tablesaws and smell of fresh cut wood has taken centre stage at Selkirk College's Silver King Campus with the opening of its new carpentry shop.
As part of the ongoing $23 million renewal of the Nelson-based campus, the 4,500 square foot stand alone shop space replaces the old 3,100 square foot location where learners previously honed their skills.
"This changes the program because the students who come through here will now have a much better workspace, a better layout for the tools, less waiting in line for equipment, and generally a better area for attitude," says Carpentry Program instructor Craig McCallum. "This building just puts you in a better mood."
New Energy for Carpentry Program
McCallum started teaching at Selkirk College in 2005 after more than 30 years working in the construction industry. The veteran tradesperson has been helping learners attain their Industry Training Authority (ITA) Red Seal certification for almost 14 years in the tight quarters of the old shop which had low ceilings and was outdated for today's learning requirements.
"It helps the learning environment because happy students make happy instructors," says McCallum. "When students are waiting in line for tools or they are working in cramped spaces, they don't learn as well and that in turn makes it more challenging to teach."
The new shop was designed to bring the program into the future with high ceilings, an abundance of natural light, a sizable outdoor workspace and a leading edge dust collection system. The majority of the equipment in the old shop was already industry standard and simply moved over to the new location, but there have also been a few additions to the tools used for learning.
The first students to christen the new space with sawdust were cohorts in the Foundation and Level 3 programs. Those who started their training in the old shop agree that the new space provides a more beneficial learning environment.
"It's nice to have the amount of space," says Raphael Rindisbacher, a Level 3 student who started his formal carpentry training in 2016. "It speeds projects up because you don't need to stand in line to use tools and it makes the deadlines for projects less stressful."
Originally from Langenburg, Saskatchewan, the 21-year-old moved to the West Kootenay to pursue the carpentry trade at Selkirk College. Once he wraps up his Level 3, Rindisbacher will go back to working for Rossland's Severin Contracting to gain more hours before returning to the classroom to complete Level 4 and his Red Seal certification.
"It's a great trade because there is a lot of variety," says Rindisbacher. "Where I'm working, we do houses from ground-up so you get to see the whole scope of the project and play a part in creating something. It's exciting to be near the end of classroom learning, I am looking forward to getting my ticket and the formal paperwork for my education."
As for McCallum, getting to continue to watch future tradespeople hone their skills in a more welcoming setting has provided a boost of energy to the classroom shop.
"I love teaching," he says. "The best part about it is the students, trades students are enthusiastic and hard working. They just want to learn which is a pretty great environment to be in."
The opening of the new carpentry shop in September follows the complete overhaul of shop spaces that house the Millwright/Machinist Program, Electrical Program, Heavy Mechanical Program, Plant Operator Program, Welding Program and Metal Fabricator Program which were all opened last year. The final piece of the Silver King Campus refresh is the new Student Commons Building which will be opened to students before the end of the year.
The $23 million Silver King Campus project is funded by the federal and provincial governments with additional dollars from Columbia Basin Trust and industry partners.
Find out more about formalized educational opportunities in trades and join us on Facebook.