Selkirk College first choice for Nelson grad interested in engineering career
May will go on to UBC this fall to complete her degree in Chemical Engineering, feeling ready for the next challenge.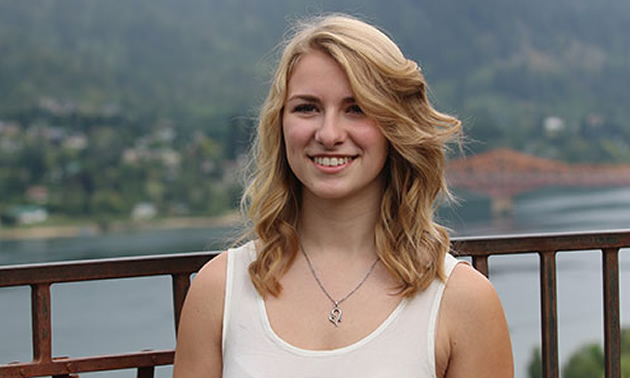 Selkirk College is a strong option for high school graduates wanting to start their post-secondary education close to home. Not quite ready to leave the community she grew up in, her home, friends and family, L.V. Rogers Secondary graduate Jade May made Selkirk College her first choice for post-secondary education and followed in her parents footsteps studying close to home.
One year later, May has successfully completed the Engineering Certificate Program and will go on to the University of British Columbia (UBC) this fall to complete her degree in Chemical Engineering, feeling ready for the next challenge.
"I just found out that I was accepted and I am really excited to start next year," May says.
She has plans to live off-campus with a friend and is eager to seek out academic clubs at UBC to connect with other students.
"I think it will be really fun—a big change because I've never lived anywhere but here, the big city will be really different—but I'm ready," she says.
May, 18, grew up in Bonnington, just outside Nelson and graduated from L.V. Rogers Secondary School in 2015. Throughout high school she pondered her post-graduation direction and after attending two Engineering open houses at the University of British Columbia, she committed to the field of study.
"In high school I really enjoyed physics, math and chemistry. These types of courses interested me. The more I looked into Engineering, the more it interested me and I decided it was something I wanted to try and pursue," she says.
Selkirk College has an Engineering Certificate Program that allows students to complete their first year requirements and transfer them directly to University of British Columbia, Simon Fraser University, University of Victoria or the University of Alberta for degree completion.
"All the courses we took are the same as they would be if you were taking first year engineering at UBC," May says. "But at Selkirk College, the classes are smaller and the teachers know you. If you need help, they are right there for you."
One Step at a Time
May took advantage of this route to enter UBC secure in the knowledge she could tackle post-secondary education, a big life change, from the comforts of home.
"Selkirk College is right in my own community and I wasn't sure I was ready to leave home yet," she says. "It was nice to have a transition year where I could stay at home but still do college classes. I didn't have to do everything at once. I was able to ease into it."
May also found staying at home helped save funds. Selkirk College offers less expensive tuition and accommodations were, of course, covered.
To help even further, the strong student qualified for many scholarships including $1,500 from Zellstoff Celgar, $1,000 from Pacific Insight and $500 from Turning Pointe Dance Studio where May danced competitively for many years. She had a total of $6,500 to put toward her first year of post-secondary education.
May's parents grew up in Nelson, went to L.V. Rogers Secondary and attended Selkirk College too. She is proud to be following in family footsteps. Her father Roger took the Electronic Technologist Program graduating in 1986 and mother Shannon went to Selkirk College in 1989 taking the Early Childhood Care & Education Program on the Castlegar Campus.
"My dad was the one who helped me figure out I could start my engineering education at Selkirk College," says May. "And my mom was happy I decided to study there. She wasn't ready for me to move away from home yet either."
May's roots in the community are strong. Once she's finished her degree at the University of British Columbia, she would like to come back to the West Kootenay to work, eyeing up local industry giants Zellstoff Celgar and Teck Cominco.
"I love the Kootenays. I definitely want to live here," she says.
Learn more about Engineering at Selkirk College and follow us on Facebook.