Save-On-Foods announces new 28,000 square foot store for Kimberley
It is anticipated that the new store will create 50 permanent jobs in the city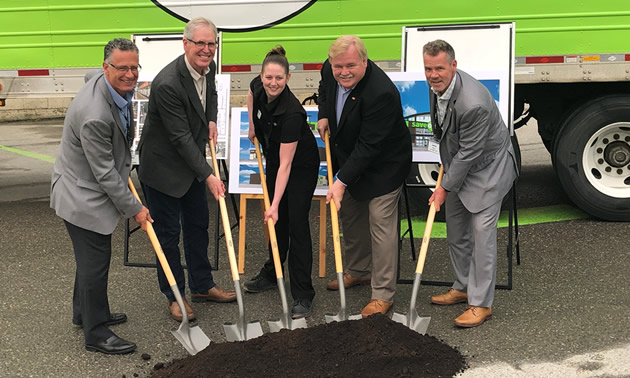 It may have been the worst kept secret in Kimberley, however the new Save-On-Foods store in the city was finally announced last week.
Friday May 31st was an exciting day for both the City of Kimberley and Save-On-Foods as the BC-based grocery store company announced that a brand new grocery store is coming to Kimberley.
Save-On-Foods CEO Darrell Jones was on hand for the groundbreaking ceremony celebrating the announcement of the new 28,000 square foot state-of-the-art outlet. It is anticipated that the new store will create some 50 permanent jobs and should be completed by the autumn of 2020. Over 100 jobs will be generated during the construction phase.
"We're also planning to include click-and-collect and we're looking to put delivery in," said CEO Darrell Jones in an interview with 102.9 The Drive news director Jeff Johnson. "So you can go online, order your groceries and come by the store the next day and pick them up."
"We got the opportunity to purchase the bowling alley and that really allowed us to proceed," Jones also said in the interview. "We needed to find a different site, we didn't want to close the store because we know the store is really well needed in the city of Kimberley, so we had to come up with a solution to keep the store open, while we built the beautiful, brand new store."
Construction is expected to start in September 2019, which will see the aging and existing 17,000 square foot Save-On-Food (formerly Overwaitea) building being replaced, along with the adjacent building of the former movie theatre being razed to make room for the new grocery store and give additional room for parking.