Sales Beyond BC - Export Navigator Workshop
The workshop is facilitated by Michael Hoher, the Export Advisor for the Kootenay Boundary region.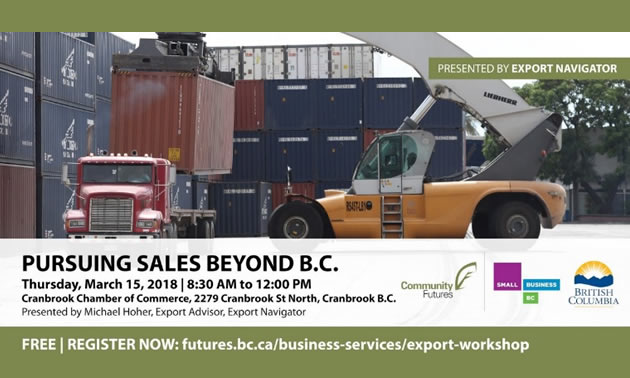 CRANBROOK, BC – East Kootenay manufacturers with an interest in export will have the opportunity to explore their options at the Export Navigator - Sales Beyond BC workshop happening in Cranbrook on March 15th, 2018. Local entrepreneurs who have been exporting for years and are looking to broaden their scope, or those just beginning the process of trying to navigate the many legalities, fees and considerations involved in the export process will gain from this valuable session.
Facilitated by Michael Hoher, the Export Advisor for the Kootenay Boundary region, the workshop lays out things to consider when looking to export including cultural differences, export codes as well as export services for those who are first getting into export or expanding into new markets.
"The export environment is cluttered with agencies, crown corporations, government entities, to name a few." Said Hoher. "That makes the process much more complex, regardless of whether you're skilled in export already and want to discover new markets or you want to export for the first time, because it's hard to know where to start. That's where I come in – as the Export Navigator Advisor, I work with you one-on-one to tackle all of these concerns."
During the workshop, Hoher acknowledges the difficulty of the export process. And with the current changes in several free trade agreements with Europe and within North America, there can be many aspects of the process that will need frequent review.
But the goal of this workshop is to encourage these intrepid business owners to persevere. "Anybody that has gone down the export chute grows in sophistication in leaps and bounds," says Hoher. "Through the export process, they become a better business person, developing sound decision making and making invaluable connections."
To sign up for the upcoming Export Navigator workshop on March 15th, register here.