Revelstoke's Geoff Battersby awarded Order of Canada
In 2004, Dr. Battersby received one of the first British Columbia Community Achievement Awards.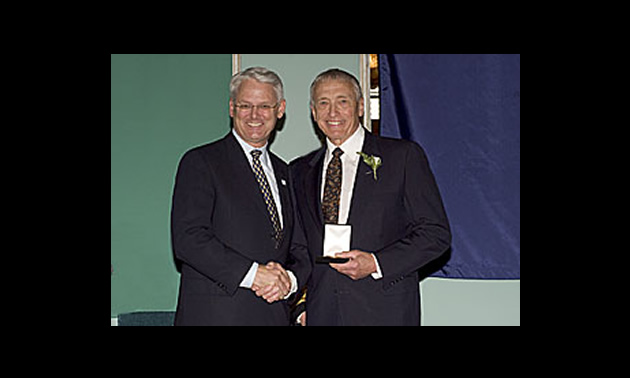 The Government of Canada has announced that former Mayor of Revelstoke, Dr. Geoff Battersby, has received the Order of Canada Award. Dr. Battersby and his wife, Gwynne, moved to Revelstoke in 1969 and raised their family of three children in the community. Dr. Battersby served as Columbia Shuswap Regional District Area B Director from 1978 - 1981 and as a Revelstoke Alderman from 1981 - 1983. In April 1987 he became Mayor of Revelstoke and held that office as well as CSRD Director until November 1993. He resumed office as Mayor in November 1996 and was elected Chairman of the CSRD in November 1997.
Throughout his career, Geoff has always been active in community affairs through involvement at various times in the Chamber of Commerce, the Economic Development Commission, the Advisory Planning Commission, Recreation Commission, Downtown Revitalization Committee, and Community Futures. Dr. Battersby played a key role in the inception and development of the Revelstoke Community Forest Corporation and later, the formation of the Revelstoke Community Energy Corporation. Dr. Battersby has been intimately involved in both organizations and served as Chairman of the Board of Directors of both agencies for many years. Dr. Battersby retired in March 1998 after 30 years of medical practice in Revelstoke.
Mayor Mark McKee stated: "Geoff is a very deserving recipient of this award. He has dedicated his career to serving the people of Revelstoke, as a medical professional, in political office and through his extensive community work. Geoff has been a mentor to a number of City Councillors over the past three decades, and his contributions to the community have helped to make Revelstoke a better place for all residents. The City of Revelstoke is pleased to extend warm congratulations to Geoff on this award."
In 1997, in recognition of the outstanding contributions he had made to the community, the City of Revelstoke honoured Dr. Battersby with the award of Freeman of the City. In 2004 Dr. Battersby received one of the first British Columbia Community Achievement Awards.