RED Mountain makes history to secure future via equity crowdfunding
Located in Rossland, BC, 1st stop on Canada's famous Powder Highway, RED delivers 2,877 acres of pristine, unfettered skiing.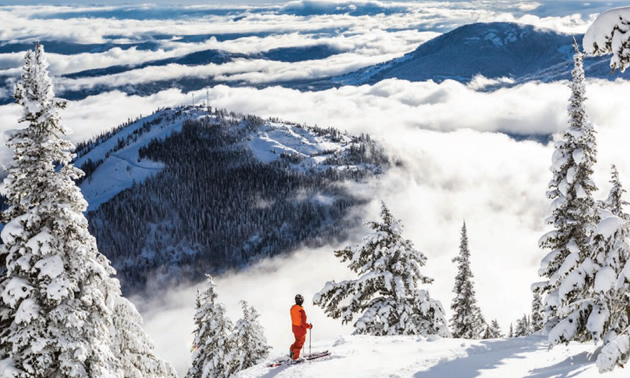 RED Mountain, the oldest ski resort in Western Canada, is set to make history. The fierce, independent mountain that is the first stop on British Columbia's famous Powder Highway is bucking the trend of MegaResort mergers and acquisitions and taking its next capital campaign to the people via equity crowdfunding. Our campaign through StartEngine.com goes live August 23rd and will allow hardcore skiers, snowboarders, and savvy investors to put their money where their heart is — and come away with actual ownership of a marquee ski resort. On August 23rd, you can access the campaign page here.
"RED started as a ski club that was owned by the community," explains RED CEO Howard Katkov. "You can feel it in the spirit of the place, the camaraderie, the spark. Our shared community values and the current consolidation of the resort industry make NOW the perfect time to help save this 'endangered species'. We're 'ReBooting' the Red Mountain Ski Club Community Ownership Model from 1947—only this time the clubhouse will have wireless!"
The sport of skiing truly has changed immeasurably in the last 20 years with luxury shopping malls at base areas, covered escalators to the lift line, water parks—with all of this 'growth' funded by skiers whether they support it or not. Regular ski families are routinely being priced out by corporate decisions made many time zones away from the mountain communities they affect. Skiing and snowboarding are now on the cusp of becoming pursuits for the elite like polo or Formula 1 and RED Mountain is keen to reverse this corporate tide before it's too late. And we think that RED Mountain's preservation as a fiercely independent, non-corporate entity is beyond worthwhile.
Phase 1 of the equity crowdfunding campaign, which goes live August 23rd, is deemed "Test the Waters," and parties can express interest in the investment without handing over any actual money now or later. RED is setting the minimum buy-in at $1,000, considerably lower than many tech and transportation offerings and startups on StartEngine.com. When the "Test the Waters" campaign gains sufficient traction, RED will file an offering statement with the SEC in the United States and prepare a Canadian offering memorandum to launch RED's offering with real dollars, actual equity, and unique perks (check out all the perks right here) sure to appeal to ski and snowboard enthusiasts especially.
"This is a legitimate opportunity to actually own every asset of this place: The mountain, the chairlifts, the lodge, snow making – you name it," says Katkov.
"See, we aren't just 'keeping it real' for us," adds Katkov. "We're keeping it real for everyone. This is serious. That's why we call ourselves a Keystone Species. We believe that keeping a place like this thriving betters the sport for everyone in a time where families that love this mountain lifestyle are getting priced out, overcrowded, and underdelivered left and right. Skiing and snowboarding should never become like this. That's just wrong."
About RED Mountain Resort
RED is the last great, unspoiled resort. Located in Rossland, BC, 1st stop on Canada's famous Powder Highway, RED delivers 2,877 acres of pristine, unfettered skiing. RED recently added nearly 1,000 acres of intermediate to advanced terrain on Grey Mountain. With 7.6m of annual snowfall, (cheap!) in-bounds cat-skiing, and the friendliest locals around, it's no wonder The NY Times voted us their #8 "Best Place in the World to Visit in 2013." Other recent wins include Powder's "Ski Town Throwdown," and "Most Underrated Resort" by Skiing. Fresh turns that you don't have to fight for — that's RED.