Red Mountain in Rossland revitalizes day lodge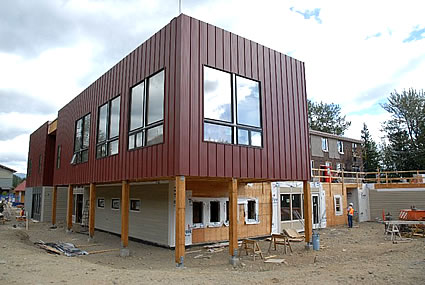 Winter ski season may be three or four months away but the excitement is building already at Rossland's Red Mountain. One of the oldest ski resorts in the Kootenays is investing in a newly expanded and renovated day lodge at the base of the mountain.
Red Mountain Ventures, the developing and operating company for Red Mountain Resort, recently announced the launch of two major development projects. The company will be investing more than $5 million in two projects: the revitalization of the resort's 110-year-old day lodge and the second phase of its Caldera single-family neighbourhood at the base of the resort.
Revitalization of day lodge
The renovations are underway for the restoration of the existing 17,000-square-foot day lodge. The revitalization efforts will also include the addition of approximately 7,000 square feet of new skier services. The services will include equipment rental, retail space, guest services, lift-ticket box office, day lockers, general store, wine bar and a four-season conference centre. Completion is expected in December 2010.
"This development will preserve a piece of history by upgrading the existing 110-year-old lodge and likewise, jumping into the 21st century with a new and modern skier service centre and conference centre," said Howard Katkov, president and CEO of Red Mountain Ventures.
Red Mountain Resort—the oldest ski resort in Western Canada—was purchased in 2004 by business investor Howard Katkov and a group of ski enthusiast investors. Since the acquisition, Red Mountain Resort has undergone more than $57 million in renovations, including new and upgraded lifts, mountain expansion and ski-in and ski-out residential developments.