Prestige Radium Hot Springs Resort, BW Premier Collection
The hotel features 70 guestrooms and 17 suites, all beautifully and tastefully renovated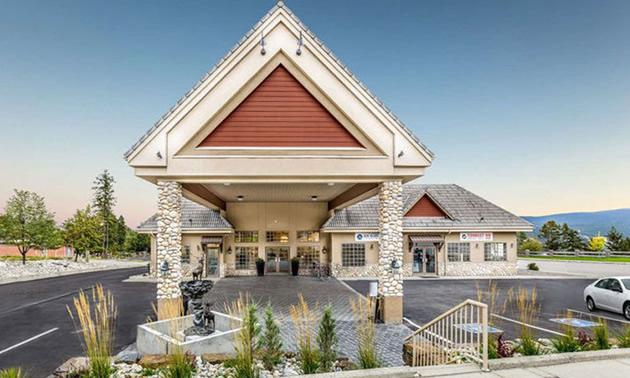 Best Western Hotels & Resorts has announced the newest addition to its luxurious collection of BW Premier Collection by Best Western hotels, with the opening of the newly renovated Prestige Radium Hot Springs Resort in Radium Hot Springs, British Columbia. Located at 7493 Main Street, the hotel features 70 guestrooms and 17 suites and is owned by Joe Huber with Prestige Hotels and Resorts.
Travelers to the newly revamped Prestige Radium Hot Springs Resort, BW Premier Collection by Best Western, are greeted by the hotel's striking white stone portico and lush outdoor greenery. The beauty of the outdoors carries inside, with a fresh modern interior featuring a calming and neutral color palette, classic décor and elegant ceiling fixtures. The hotel's windows infuse the property with natural light and allow guests an opportunity at nearly every turn to take in the spectacular mountain scenery.
In addition to its clean and natural design, the hotel offers a variety of amenities to provide guests with a superior stay. These amenities include a state-of-the-art 24-hour fitness center, three spacious and elegant event spaces, a business center, an indoor heated pool and hot tub ideal for guests to relax their muscles after a long day of adventuring outside, and two onsite dining options. Guests can enjoy authentic Mexican dishes and signature cocktails at the hotel's Don Agave Cantina, or enjoy a bite to eat at Conrad's Kitchen and Grill - which specializes in using fresh ingredients to re-create classic favorites like AAA steak, fall-off-the-bone ribs, burgers and pizza.
Guests will also appreciate the hotel's proximity to the region's most popular natural wonders including Kootenay National Park and its world-renowned Radium Hot Springs Pool, which is only a five-minute drive away. Travelers wanting to stay active and explore the outdoors have endless recreational activities to choose from no matter the time of year - from rafting in the Rockies and golfing on the Columbia Valley Golf Trail to cross-country skiing and skating on the Lake Windermere Whiteway - the longest skating path in the world. "Our BW Premier Collection by Best Western hotels bring the local personality and unique ambiance their one-of-a-kind destinations are known for," said Ron Pohl, senior vice president and chief operations officer for Best Western Hotels & Resorts.