East Kootenay Community Credit Union (EKC) preps for Sparwood branch opening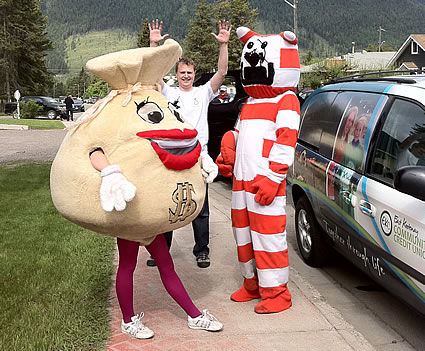 Local involvement heats up as news of EKC's upcoming branch in Sparwood spreads.
If you happened to volunteer, parade or otherwise soak in all the fun of this year's Coal Miner Days in Sparwood, chances are you met some of the friendly staff from East Kootenay Community Credit Union. And if they haven't already, they'd like to thank you for a really great time.
With Sparwood's first EKC branch slated to open on Aspen Drive this fall, the credit union is living up to its reputation for being "more local"—including a recent approval of $27,500 to fund local community projects in 2011 and 2012.
Fresh on the heels of a $1,000 donation for summer programs at the Sparwood Public Library, the East Kootenay Community Credit Union team dove into Coal Miner Days with both feet. It all started at the Sparwood Chamber of Commerce Golf Tournament, where five of EKC's staff members contributed steaks (and a few double bogeys) for the 100-plus people in attendance. In the days that followed, staff members were also on hand to volunteer at the kids inflatable, the EKC van joined in the parade with mascots Fat Cat and Clarisa Cash, an EKC car was finalist for the best paint job at the Soap Box Derby (its driver won "best dressed"), and the EKC-sponsored climbing wall, 5k and 8k runs were all a huge hit.
"We've always done our part to support Coal Miner Days, but this was by far our best outing yet," said Mr. Jody Burk, chief executive officer of East Kootenay Community Credit Union. "Going into this with the knowledge that EKC is finally coming to Sparwood, we really enjoyed getting to know our neighbours a little better and we couldn't have asked for a warmer reception."