Pacific Coastal adds one-stop (Kelowna) same plane service between Cranbrook and Victoria
The new schedule provides more options for customers travelling between Victoria and Kelowna.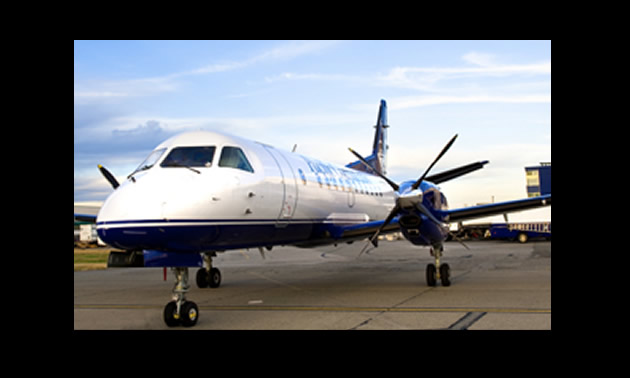 Pacific Coastal Airlines is pleased to announce the addition of a new mid-day flight between Victoria and Kelowna effective Monday, June 5, 2017.
The new flight leaves Victoria International Airport (YYJ) at 11:45 A.M. arriving at Kelowna International Airport (YLW) at 12:50 P.M. PDT.
The same aircraft leaves Kelowna at 1:10 P.M. arriving at the Canadian Rockies International Airport (YXC) in Cranbrook at 3:05 P.M. MDT.
The plane then leaves Cranbrook at 3:30 MDT arriving in Kelowna at 3:25 PM PDT, leaving Kelowna at 3:45 and arriving back in Victoria at 4:50 P.M.
"This new schedule provides more options for customers traveling between Victoria and Kelowna," says Pacific Coastal's Director of Business Development Kevin Boothroyd, "as well as one-stop same plane service between Cranbrook and Victoria via Kelowna," he adds.
The addition of this new mid-day service means that there are now three non-stop flights between Victoria and Kelowna Monday through Friday, and two non-stop flights between the two destinations on Sundays.
"These changes are part of our ongoing commitment to provide the public with quick, convenient, and affordable transportation choices. We are proud to support local communities in British Columbia," says Boothroyd.
For more information on the destinations served by Pacific Coastal Airlines, visit the website at http://www.pacificcoastal.com/route-map/
New schedule effective: Monday, June 5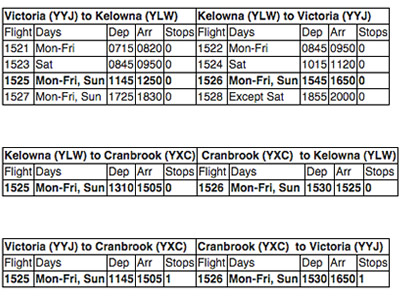 About Pacific Coastal Airlines
A privately owned, British Columbia based regional airline operating from Vancouver International Airport's South Terminal (YVR), Pacific Coastal is now the sixth-largest airline operating at YVR, based on outbound seats, and third largest in takeoffs and landings. It flies to 14 airports and connects to more than 50 destinations in the province, from as far east as Cranbrook in the Rocky Mountains and as far north as Prince George and Masset on the legendary island of Haida Gwaii. Its network encompasses major ski destinations, a multitude of fishing lodges, outdoor and wildlife adventure tours, and authentic First Nations experiences.