On air today—Nelson's newest radio station—1035 The Bridge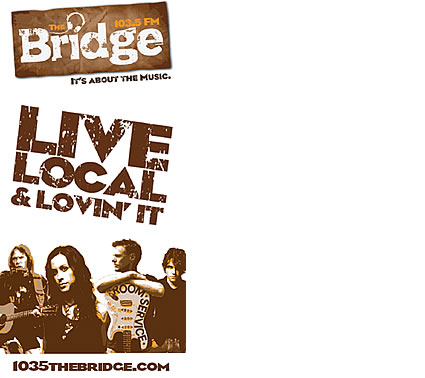 The B.C.-based broadcast company Vista Radio today launched Nelson's newest radio station, 1035 The Bridge. After months of planning and construction on their new state of the art facility on Hall Street, 1035 The Bridge went to air today at noon, taking over from Vista's other station Mountain FM, and formerly BKR.
"This is a dream come true for me and my team, as a long time local Nelson resident it has been my ultimate goal to give Nelson its very own live, local and community-focused radio station, and that dream came true at 12 noon today. Nelson is such an amazing city, with amazing people, and they all have unique stories to tell, and we will be here to tell them seven days a week," said Kevin Einarson, general manager. "News will be our other focus, we will still deliver our outstanding new coverage like we did on Mountain FM. News is an important part of this community, and we plan to continue to deliver the best service with our news director and local Nelson identity Glenn Hicks leading the charge."
Drex the bridge program director added that the Bridge will offer something unique to the Nelson audience with a very low key, grass roots attitude to radio. He said, "It's an open door radio station, we want you to come down, talk to the team, give us feedback, bring us unique music, we have a mandate to be on top of everything happening in Nelson, but we need your help to make it happen."
The Bridge also will deliver a unique music format for Nelson, playing a format called Adult Album Alternative & Indie Rock, where you will hear artists like John Mayer, Bob Marley, Arcade Fire, The Temper trap, Sarah McLachlan and Fiest, along with local artists like Cheryl Hodge, Wassabi Collective & Ty West.
"We really want the music to speak for itself, every song we will play has been chosen for a reason, every tune has one, and we have a massive library," said Drex.
The Bridge's on-air personalities will be the glue that keeps everything together, the Bridge Morning Run will be anchored by 10-year radio veteran Chad Hansen who is the quintessential outdoors and family man. He has an outstanding vision for his show, and will deliver live, fresh, daily content focused on the Nelson area. Karly Wylde will keep you on the right track weekdays from 2 p.m., with the latest tracks from across the world, and from right here in out back yard.
And joining the family fresh from our radio neighbours and friends, Kootenay Co-op radio, is Paul Henricks, a local live music identity and one of the organizers of the Soundvibes shows. Paul will deliver the best in live music and conversation every Sunday from 2 p.m. on "Under the Radar."
Find the Bridge online at www.1035thebridge.com