Nine local youth receive bronze & silver Duke of Edinburgh's Awards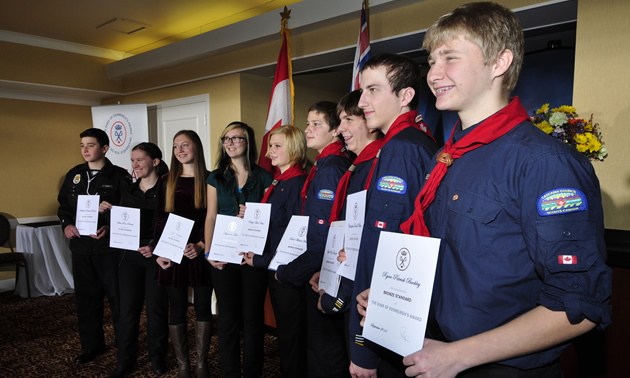 TRAIL- On Saturday, November 22, Mayor Elect Mike Martin of Trail presented the Duke of Edinburgh's Bronze and Silver Awards to nine youth at the Best Western Columbia River Hotel. Award recipients came from Trail, Fruitvale, Nelson, Fernie, and Sparwood.
"Each youth that we see on this stage today set goals to volunteer in their community, be physically active, learn a new skill, and adventure in nature under their own power. And every youth in this stage today met those goals after months, and in some cases over a year of hard work," said Sushil Saini, Executive Director for The Duke of Edinburgh's Award for BC & Yukon, in her speech at the event.

"One of the intrinsic values of doing the Award program is the self-esteem youth acquire and the self-knowledge. This is something that will stay with you long after you receive your Award. You will always know just how much you are capable of, and that is a powerful thing for youth to know," she added.

This ceremony marks the largest Duke of Edinburgh's Award ceremony in the region since the Award came to Canada over 50 years ago. The growth of the Award program in the Kootenays is the result of a donation by Teck in 2011 to The Duke of Edinburgh's Award, BC & Yukon Division. Through Teck, all youth registration costs are sponsored, as well as outreach throughout the East and West Kootenays.

Kootenay youth, schools, and community groups wishing to take advantage of this generous sponsorship opportunity can contact The Duke of Edinburgh's Award at 1-888-881-7788

After the ceremony a private reception was held for Achievers, families and local dignitaries.
About the Duke of Edinburgh's Award

The Duke of Edinburgh's Award is an international youth award for participants between the ages of 14-24. It is a fully inclusive program, without academic requirements for participation. Currently, there are 8 million participants in over 140 countries worldwide, with approximately 8,000 participants in the British Columbia & Yukon Division. More than 44,000 Canadian youth are currently participating in the Duke of Edinburgh's Award program, either as independents or members of organized groups such as Guides, Cadets, Scouts, Community Centers, Churches, Friendship Centers, or Schools. The Award is presented to the recipient, known as an "Achiever", in the form of a lapel pin and a certificate. Achievers also earn two Grade 10 High School credits for completing their Bronze Award, and two Grade 11 High School credits for completing their Silver Award. For more information about the Duke of Edinburgh's Award program please go our website.