Newly renovated Casino of the Rockies at St. Eugene Resort reveals new nature inspired redesign
The new design concept celebrates the Ktunaxa connection to the earth, and highlights native elements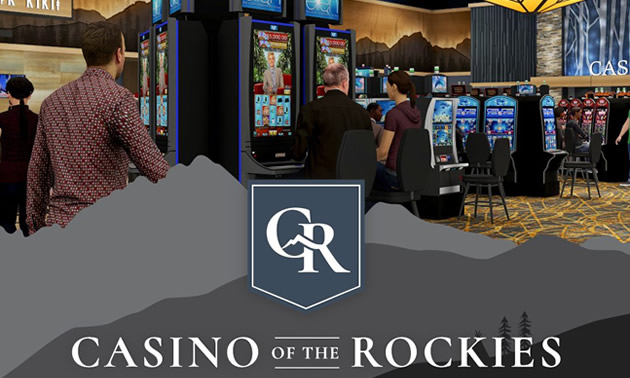 The St. Eugene Resort in Cranbrook, BC has completed a significant renovation of their on-site Casino of the Rockies, which began on April 8, 2019. The refreshed Casino of the Rockies at St. Eugene Resort will launch with a Grand Opening event on July 19, 2019 at 7pm. Sure to be a highlight of the evening are performances by acclaimed Neil Young and Alan Jackson tribute bands, Live Rust and Aaron Halliday.
"Our casino has been completely re-imagined with a design inspired by nature," says Barry Zwueste, CEO of St. Eugene Golf Resort and Casino. "It is now brighter and livelier with a bold nature-based design concept that celebrates the Ktunaxa connection to the earth, and highlights native elements in their traditional territories. We look forward to welcoming our community and partners to celebrate the grand opening of the Casino of the Rockies alongside us on Friday, July 19."
While the renovation was significant, the casino was able to maintain operations with brief section closures while prefabricated installations were fitted. The completely revamped gaming floor now showcases design elements inspired by nature including ambient lighting that reflects day and nighttime skies. New games have also been introduced to the floor including new slot machines such as, Dragon Link, Scarab and Asia's most popular game - Rising Fortunes Jin Ji Bao Xi.
A new, full-service restaurant concept called Kiʔsuʔk k̓ikiⱡ (pronounced key-sook-kick-ikch) which is Ktunaxa for "Good Food," will add to the resort's dining options with small plates and appetizers, sandwiches, salads, entrees, and a full bar including specialty craft cocktails. The welcoming new lobby area houses a guest services desk and a Grab and Go counter for visitors looking for a quick snack or coffee.
"We are thrilled to launch a completely refreshed and updated Casino of the Rockies to our community and to our summer guests to complement world-class golf, hotel, RV and spa facilities," says Zwueste. "We look forward to revealing the transformation of the casino to our guests and community members."
For more information on the project including renderings and an immersive walkthrough, visit www.steugene.ca/newcasino.
About St. Eugene Golf Resort & Casino
St. Eugene Resort is a proudly First Nations-owned resort in the heart of the East Kootenays located five minutes outside of Cranbrook and from the Canadian Rockies International Airport, and less than four hours' drive from Calgary, AB. Once a residential school, Ktunaxa elders reclaimed and restored the beautiful property to create the resort as a source of hope, strength, and pride for their people. This full-service, three-diamond hotel features 125 rooms and suites, the Casino of the Rockies, and a Les Furber-designed, championship golf course. Guests and visitors can indulge in the best dining in the Cranbrook region with NUMA restaurant, and two pub-style options at the golf and casino restaurants. Other amenities include a KOA Journey RV park, the Ktunaxa Nation Interpretive Centre, and a spa and health club with fully equipped gym, year-round heated outdoor pool, relaxation pools, sauna, and steam room.