New Tim Horton's breaks ground in Sparwood
Projected completion of the new Tim Horton's is towards the end of November 2015.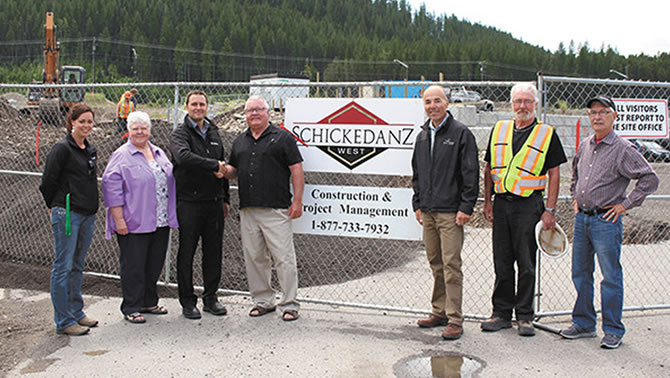 Tim Horton's has commenced construction of a new restaurant in Sparwood, due to open later this year.
The new location will be owned and operated by Mark and Rachael Nelson who are the owners of the existing Tim Horton's restaurants in Blairmore, Pincher Creek and Fort McLeod. Sparwood is the first location in British Columbia when travelling from Alberta and is a primary stopping location that experiences in the region of 20,000 visitors per month during the summer at its Visitor Information Centre.
The restaurant will be the first development by Schickedanz West on their commercial lots at the intersection of Highways 3 and 43.
Speaking of the development, Mayor of Sparwood, Cal McDougall said: "It is with immense pleasure that we are able to make this announcement. Tim Hortons is a great addition to our local economy and brings with it employment opportunities as well as another reason for visitors to stop in and enjoy our town."
The new restaurant will be opposite a large mixed use development named Middletown Crossing on the south side of Highway 3 which will be connected by a pedestrian underpass. The intersection will be upgraded in 2016 with traffic signals and various other road upgrades.
Mark Nelson, owner of Sparwood Tim Horton's said: "We are delighted to be opening in Sparwood. The community has been calling out for Tim Hortons for some time and it is exciting to have the opportunity to open in a community that is primed and ready for us. We are aiming to open in December of this year and look forward to completion of the construction phase, which is starting as we speak."
Projected completion date should be towards the end of November 2015.