New proposed Kootenay West Gypsum mine
The new mine, called the Kootenay West Mine, is projected to employ around 18 people, including transportation drivers.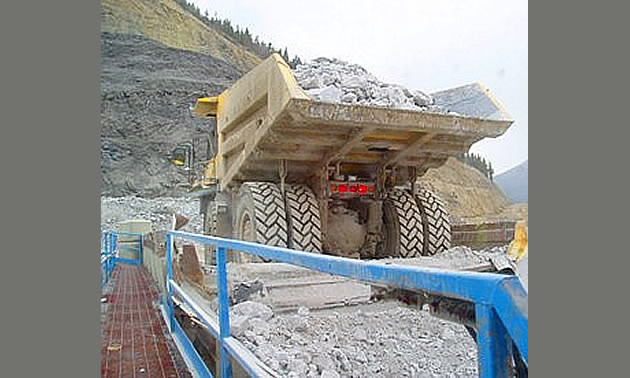 A new mine proposed by CertainTeed Gypsum near Canal Flats projects a 43 year life span and would mine 400,000 ton of gypsum annually.
Here is the company's invitation to comment on the proposed development as published in last week's Invermere's Columbia Valley Pioneer newspaper.
CertainTeed Gypsum Canada Inc. (CertainTeed) is proposing to develop the Kootenay West Mine (KWM) which would be located 12 km northeast of the Village of Canal Flats. KWM would mine the gypsum deposit at a rate of 400,000 t/year.
The expected lifespan of KWM is 43 years. KWM is subject to review under British Columbia's Environmental Assessment Act. CertainTeed has now submitted its Environmental Assessment (EA) Application to obtain an EA Certificate which is required before any work can be undertaken. The intention of seeking public comments is to ensure that all potential effects – environmental, economic, social, heritage and health – that might result from KWM are identified for consideration as part of the assessment process. Please comment using the following approaches:
Online: www.eao.gov.bc.ca Mail: ATTN: Terry Pratt Project Assessment Manager Environmental Assessment Office, PO Box 9426, Stn Prov Govt, Victoria B.C., V8W 9V1, Fax: 250-387-2208
An electronic copy of the Application and information regarding the environmental assessment process are available at www.eao.gov.bc.ca. Hard copies of the Application are available for viewing at these locations: Canal Flats Village Office, 8866 Grainger Rd., Canal Flats B.C., V0B 1B0 and District of Invermere Office, 914 8th Ave., Invermere B.C., V0A 1K0.
Here is some previously published background information on the project and the company:
The new mine, called the Kootenay West Mine, is projected to employ around 18 people, including transportation drivers. The mine is an exciting economic opportunity for the Village of Canal Flats.
Offering a broad range of gypsum and finishing products for interior and exterior needs, CertainTeed Gypsum has been serving the North American building industry for more than 80 years and is a subsidiary of Saint-Gobain, the world's leading producer of gypsum products. This, in combination with the full range of affiliated CertainTeed Corporation building products, provides architects, contractors, builders and dealers one partner to provide service and support for commercial and residential building projects.
Canadian operations are based in Mississauga, CertainTeed Gypsum Canada operates with over 600 employees in its manufacturing facilities in Delta, British Columbia; Calgary, Alberta; Winnipeg, Manitoba; Mississauga and Oakville, Ontario; Ville Ste-Catherine, Quebec; and McAdam, New Brunswick and in its mining operations in Invermere, British Columbia and Amaranth, Manitoba.
CertainTeed Gypsum is owned by Saint-Gobain based in France with their North American headquarters in Valley Forge, Pennsylvania.