New community centre for Elkford
$300,000 CBT contribution helps further Elkford's sustainability initiatives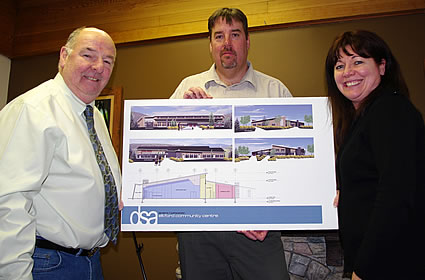 The District of Elkford will be home to a new community centre, the construction of which will be funded in part by a $300,000 grant from Columbia Basin Trust (CBT). The new building will be located on the previous site of Elkford Elementary School.
"This multi-use facility will be a community landmark that will benefit current and future generations," said Neil Muth, CBT President and CEO. "CBT is proud to be a part of this project that is furthering Elkford's community sustainability initiative and we commend the community for their vision and commitment to this project."
Currently, Elkford has limited facilities to host community and social events. The new centre will offer improved amenities for all members of the community, with a 4,300 sq ft auditorium that will seat 300 people, a commercial kitchen, a 780 sq ft multipurpose community room that can be divided, a lobby and reception gallery, a community playschool with an enclosed playground, a Visitor Information Centre and the Chamber of Commerce. It will also eventually house a museum that will highlight the rich and diverse history of Elkford.
"The new Community Centre is an exciting project that will help with Elkford's growth and development. The project has been a vision of Council for seven years and it is rewarding and exciting to be in the final stages," said Dean McKerracher, Mayor of the District of Elkford. "We are pleased that Columbia Basin Trust has come on board to assist us on the early stages of construction. Funding will assist in the Tourism Information Centre part of the project, as well as the historical display cases that will showcase Elkford's rich mining history."
The concept plans can be viewed at the District office or on the District's website at www.elkford.ca.
CBT delivers economic, social and environmental benefits to the residents of the Columbia Basin. To learn more about CBT programs and initiatives, visit www.cbt.org or call 1.800.505.8998.