Nelson's Burrell Grocery home to the Kootenay's first and only Bitcoin ATM
Burrell Grocery is the home to the Kootenay's first Bitcoin ATM machine.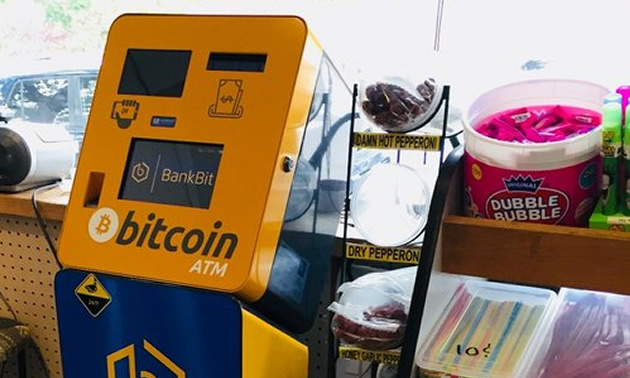 A small corner grocery store in Nelson is now the Kootenay's first and only Bitcoin dealer. Or to be more exact, Burrell Grocery is the home to the Kootenay's first Bitcoin ATM machine.
BankBit, a company owned and operated by Nelson resident Ben Glickman, recently installed a Bitcoin machine in the convenience store.
At the time of installation in October 2018, the company issued a brief statement that read: "BankBit is proud to announce the launching of our first ATM Machine - located at Burrell Grocery - 1224 Stanley Street - Nelson, BC V1L 1P8."
The company lists five reasons to use their service, under the heading, "Why use BankBit?"
No sign-up, ID or waiting period required.
Instantly convert cash to bitcoin and deposit into your bitcoin or cryptocurrency wallet.
Completely anonymous.
Convenient - BankBit is the only Bitcoin ATM operating in the Kootenay region (the next closest is in Kelowna)
Custom rates and services available for large transactions.
The company's website states that BankBit.ca is a retail Bitcoin ATM Machine operator. Bankbit is a subsidiary of Blockchain Mining Ltd. - a privately held blockchain and cryptocurrency mining company with operations in Western Canada and Asia. BankBit is listed on a Canada-wide directory of bitcoin machines called CoinATMRadar.
Also according to their website, BankBit Bitcoin ATM machines accept CAD$ and USD$. They accept transactions up to $10,000 CAD. The only cryptocurrency they sell is Bitcoin. BankBit does not currently purchase Bitcoin.
Here is some information about Blockchain Mining Ltd: They are based in Delaware. Blockchain Mining LTD has assembled blockchain industry experts in legal issues, cryptocurrencies, finance, marketing and developers. With blockchain mining operations in Asia and Western Canada, we are developing a network of Bitcoin ATM locations to augment our industrial mining operations - our blueprint is to lower the cost of cryptocurrencies to consumers by creating the first vertically integrated blockchain company, from production to retail.
Bitcoin at the time of writing was valued at $4,829.14 CDN – down from a high of over $20,000 in early 2018. LInkedin lists Ben Glickman, of Nelson, as the founder and CEO of a language learning company called ESL101.com