Nelson named as one of the World's Smart21 Communities
Nelson remains in contention for the prestigious designation of an Intelligent Community Top7, to be named in Taiwan in 2017.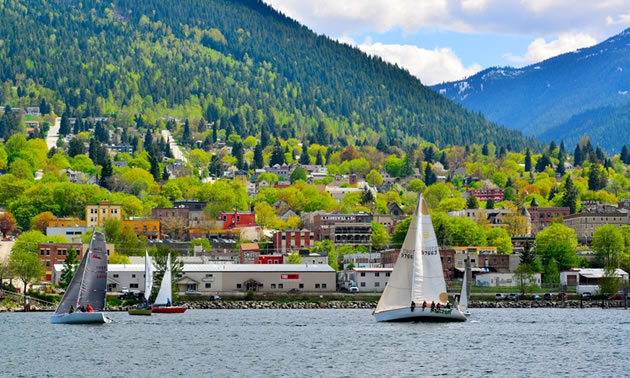 Last week the Intelligent Community Forum (ICF) named the world's Smart21 Communities of 2017. This select group of communities, which emerged from a group of nearly 400, will now move on and remain in contention for the prestigious designation of an Intelligent Community Top7, to be named in Taipei, Taiwan in February 2017.
Among cities like Melbourne, Australia; Moscow, Russia; Rochester, New York; Whangui, New Zealand; Nelson, British Columbia was named as one of 21 finalists. Other cities in Canada recognized included Edmonton, Grey County, Ontario; New Westminister; Ottawa, and Sarnia-Lambton.
This year's list, chosen by a group of analysts led by former Cisco executive and Westchester County (New York) CIO, Dr. Norman Jacknis, is an eclectic group, according to ICF and includes seven communities from Canada, five from Taiwan and four from Australia, three nations that have strong national commitments to both "smart city" development and the Intelligent Community movement. In what will be a surprise to many, Moscow was also named to the list.

"The Smart21 list always has a few surprises," said ICF co-founder Louis Zacharilla while making the announcement. "This one definitely does." He noted that the list rarely includes the biggest cities with global reputations. It is a group of cities, counties and rural communities that decided to apply digital tools to building local economies and societies to prosper in an age of digital disruption. He also noted that Canada, Taiwan and Australia have national governments that tend to work more closely with communities to unleash "the power of the local."
"We find that it is the ones who collaborate with national or state governments, fly under the radar, and are 'No Name' communities to most of the world that are most innovative and aggressive," said ICF co-founder John Jung. "They are not afraid of new ideas and use strategies proven by Intelligent Communities around the world. They are places that the rest of the world can learn from and offer hope to people who are fighting hard to launch a new future, and create early stage investment opportunities to the outside world."
The announcement of the new Smart21 list was made at the conclusion of the Think Canada conference in Niagara Falls, Ontario, Canada. The Think Smarter: Economic Development Forum gave attendees a hands-on approach for investing in a "community of intelligence" through collaboration. ICF's three founders, Robert Bell, John Jung and Lou Zacharilla made the Smart 21 announcement at a special evening reception. More information about the event can be found here: https://www.thinkcanada.org/ecdev/
The Smart21 Communities of 2017 are comprised of seven communities from Canada, five communities from Taiwan, four communities from Australia, and one each from Kazakhstan, New Zealand, Russia, the United Kingdom, and the United States.
One of the seven will then be named Intelligent Community of the Year at the Intelligent Community Summit and Awards Dinner in New York on June 8, 2017. www.intelligentcommunity.org/summit
About the Intelligent Community Forum
The Intelligent Community Forum (www.intelligentcommunity.org), headquartered in New York, is a global movement of nearly 150 cities, metro regions and counties with a think tank at its heart. ICF studies and promotes the best practices of the world's Intelligent Communities as they adapt to the new demands and seize the opportunities presented by information and communications technology (ICT). To help cities and regions build prosperous economies, solve social problems and enrich local cultures, the Intelligent Community Forum conducts research, hosts global events, publishes books, and produces its high-profile annual international awards program. The Forum has two Institutes in North America dedicated to the study of the movement, with more institutes planned. Global leaders, thinkers, and media observers follow and participate in the ongoing global dialogue initiated by the Intelligent Community Forum. In 2012 ICF was invited to participate at the Nobel Peace Prize conference in Oslo and in 2014, its model and work was recognized by the U.S. Department of Commerce under the Workforce Innovation and Opportunity Act, which, according to the American government, was "aimed at creating a more flexible and responsive system of workforce development to meet the needs of employers looking to fill 21st century jobs." The Forum's membership is made up of 145 designated Intelligent Communities worldwide, which is represented by mayors and key civic leaders. For more information, go to www.intelligentcommunity.org/icf_membership. For more details on the Intelligent Community Forum's recent publications and programs, www.intelligentcommunity.org.