Nelson company will clean up your beach
This unique beach-cleaning machine removes weeds, rocks, cigarette butts and other debris from your beachfront property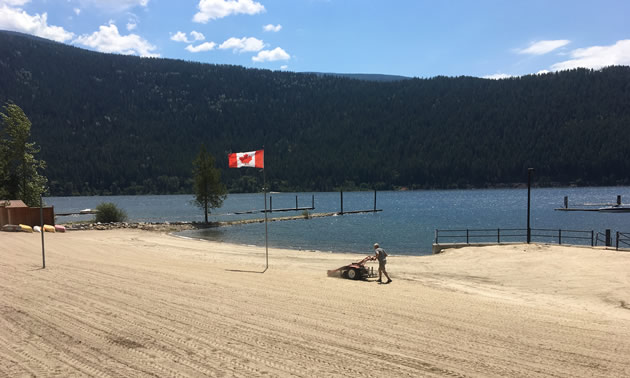 How do you keep your beach clean? Many Kootenay residents enjoy lakefront living, but maintaining a clean, safe and tidy beachfront year-after-year can be a challenge.
Since we are always on the lookout for new and unique service business services being offer in the Kootenays, this beach cleaning service, using the exclusive Sandman 850 machine, by Nelson-based Better Lawn and Garden caught our eye.
The company's dedicated beach cleaning service picks up and cleans away debris like cigarette butts, rocks, broken glass, weeds, leaves and branches.
"Using our Sandman 850 machine we can take beach cleaning to the next level," said Joe Marzicola, owner of Better Lawn and Garden Landscaping in Nelson. "Our beach cleaning machine does an incredible job. It removes weeds, rocks, cigarette butts and other debris. It leaves your sandy beach soft and beautiful."
He adds, "We have been doing this for a few years now and have a long list of happy customers. They love our beach cleaning service."
So if you are looking for a cleaner beach of soft, silky sand this summer, then you may want to check out Nelson's Better Lawn and Garden because their Sandman 850 machine can do the job for you.
Contact them at 250-352-7447 or visit www.betterlawnandgarden.com