Magnetsigns gets new franchise owner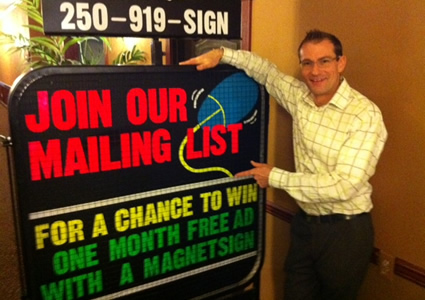 The Magnetsigns franchise in Cranbrook is now owned and operated by Michel Kuhn and Nicole Vogt.
The franchise specializes in providing neon-coloured mobile signage for commercial enterprises. They provide a turn-key solution for retailers and commercial business who want high visibility exposure in high traffic locations.
The franchise was previous owned by Greg Wornstaff, who moved to Lethbridge to operate the Mr. Mike's restaurant.
Here is his introduction of the new owners: "Magnetsigns Cranbrook is now proudly owned by Michel Kuhn and Nicole Vogt, a local couple with an excellent background in the service industry. We anticipate that this change of ownership will help promote the operation of this locally owned and operated franchise."